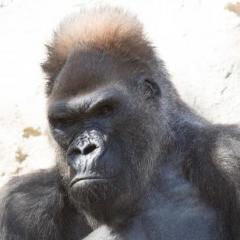 ---
Similar Content

By PalmatierMeg

Today we stopped at our local deli for lunch. As we were leaving I noticed two large Phoenix palms on each side of the driveway. One was loaded with seeds while the other, a male, was not. The fruits were still green and were 1" long x 1/2" wide. The seeds are 3/4" x 3/8". The Phoenix genus is not my favorite but these two palms were spectacular beneath the sunlit sky. They have been cared for and pruned judiciously and were perfect. I saw no other Phoenix palms nearby. My question is: Can anyone tell me what hybrids these two palms could be (almost all Phoenix in FL are hybrids)? Is anyone interested in seeds when they ripen? If the offspring take after the parents they should turn out to be awesome palms. I hope everyone agrees. I took the following photos:
Phoenix species/hybrid
Fruit and seeds

Male palm

Seeding Female palm

 


By UK_Palms

London's resident palm video guy, RH Grows, recently uploaded a video of a strange palm at Lincoln Inn Fields in central London.
I'm not sure whether this is a regular CIDP, or some kind of CIDP hybrid? At first glance, it kind of looks like a Butia, but it's clearly a Phoenix of some sort. It almost looks like a Butia x CIDP hybrid, which is obviously impossible. The fronds and crown kind of have that Butia look, but it's clearly a Phoenix of some sort. Almost certainly CIDP, or hybridised with something like Dacty, Sylvestris, Rupicola etc.
One thing to mention is that the palm is also grown in deep shade, which I believe could effect the frond size/length, but that would not explain the strange crown and slim trunk. Something just seems very different about it. For all I know it could just be a regular CIDP though. I don't know what other people think it is...?
 
 


By PalmatierMeg

I germinated these seedlings several years ago. They are still tiny but hanging in there. I still have dozens of them. I believe they are D. madagascariensis v mahajanga but I need confirmation from a Dypsis afficionado. I got the seeds from @NatureGirl back in 2018 or so. They are maddeningly slow growing as some Dypsis are but are surprisingly resilient. They stay outdoors in the shade year round and get no protection from the elements. I have dozens of them I am looking to sell as I don't have time and energy to keep herding them around.
Are these D. mad v mahajanga?



By UK_Palms

Here is a catalog of all the bigger CIDP's around London and their locations, so that they can be monitored moving forward. It also helps for people to know where they can find them exactly, should they be in the area and decide to visit some. Many of these CIDP's are not well known, so I will be photo-documenting and logging quite a lot of fairly large specimens in the city and suburbs.
Starting with the one at Lambeth Bridge...

 
River Gardens, Fulham

 
Hollands Park

 
Kensington





These CIDP's on the intersection are fruiting profusely and producing viable seed...

Another one further down the street...

 
There's two big CIDP's outside Hackney town hall. They've been there about 20 years. 


 
Egerton Place

It's in need of a trim, which will make the trunk look even bigger...


 
Mount Street gardens, Mayfair

 
Notting Hill

 
Richmond

 
White City, west London

 
Clapham

 
Next to a church in Ealing, West London.

 
Next to Wimbledon fire station. 

 
People's back gardens in Bermondsey, south west London

 
Wapping, East London

 
Eaton Square...



 
Islington

 
North Kensington...

 
Clapham again...

 
Camberwell...


 
Southwark...

 
East Dulwich

 
Croydon

 
Apartments in Fulham


 
St. Annes in Notting Hill


 
Front gardens kitted out...

 
Earlsfield

 
Another in Notting Hill...


 
A back yard in the London suburb of Leyton...

 
Decent sized specimen in Walworth...

 
That will do for now. I will upload the rest tomorrow as there are tons of other CIDP's in people's gardens/yards. I've barely scratched the surface on the London CIDP's yet...