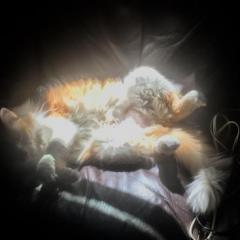 Part II - Free Archontophoenix tuckeri seed
By DoomsDave, in Freebies

---
Similar Content

By DoomsDave

The sun was sinking making the world glow.
I was sitting in my garden in front of my front door, and noted the striking silvery under-leaf of an Archontophoenix tuckeri.
Pan back a bit and note the golden infructescence of the Caryota urens nearby. It's been so warm, the Archies are blooming a number of months early.
 



By Mostapha

Anyone having an abundance of seeds they are looking to share some of, please keep me in mind. I'm willing to cover shipping. Let me know what you have. Thanks ,Mark


By tjwalters

I have some fresh (ripe and still on the palms) seeds of C. adscendens and C. tepejilote.  Free to anyone in the US - respond here or in PM with address.  For anyone not in the US, international shipping has become a bit expensive, but I might consider it if there is some interesting seed offered in trade.
-tom


By DoomsDave

The palm below has been in my garden since about 2004, when I got it as a 15 gallon. It's now about 10 feet tall.
This is a great species for those PalmTalkers who must contend with heat and cold. It's native to Argentina, where it experiences both. If you're in the Mediterranean region in Europe, England, maybe even Holland, these are worth a try in the ground. Likewise in the Southeastern US where a lot of cool palms are marginal; South Carolina, and southern Georgia, Alabama, Mississippi, Louisiana and Northern Florida. Try them in West Texas, Arizona. They will take cool, too, in British Columbia, northern California, coastal Oregon and Washington.
And, anywhere else in world you want to try some!
All seeds will be cleaned and posted at no charge to recipients, in the U.S. and the rest of the world.
I have HUNDREDS. Ask and ye shall receive!
PM me your full mailing address, with "Free Trithrinax seed" in the message. After I've accumulated some requests, I'll send them out, likely after New Year's Day.