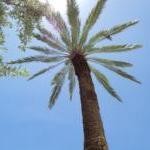 ---
Similar Content

By LasPalmerasDeMaryland

So I've been growing some palmetto seedlings for a few years now and they're starting to get more palmate fronds. I bought a big thing of Sabal Palmetto seeds a few years ago and they germinated and gave me these. I believe I also bought Sabal minor seeds to scatter around in the woods. My memory is the worst and I'm not sure if I actually germinated a Sabal minor or not. I was looking at some of the seedlings and I was struck by how blue some of them were. Do I have some Sabal minors mixed in or do Palmettos also have this bluish hue when they're young. Thanks and I apologize for my forgetfulness! 





By GregVirginia7

So is my Trachy a boy? Pictures aren't that great but flowers are very yellow...still hoping to see a hermaphroditic flower spike since my other Trachy is very young, has years to go till it flowers and I have no idea if it's male or female...I know that would be a very rare occurrence but that would be interesting...


By GregVirginia7

Trachy pushing around 12-flower spikes this spring...I have no other Trachy's of flower age yet so this is the only one in the immediate area...does the process of flowering sap energy from the palm that would otherwise be used to push fronds and height? Also, in the off-chance my Trachy is both sexes, should I just let the flower spikes form and see what happens? Last year was the first time it flowered but I hacked them off thinking they were a waste of time and energy for the poor, lonely Trachy, but wondering now what the chances are of it flowering with both parents in mind...most of the spike's pods are beginning to burst out in flower while several others are just emerging about 2+ weeks behind the others...is that an indication of anything...suggestions or info.?


By Collectorpalms

I have seeds I lost the label for and not sure if there is any difference in the three species seeds. I am going to grow them regardless. 

They were from Montgomery Botanical Garden seed auction. I got seeds from Sabal Maritima, domingensis, and Causarium. 
 
The seeds are rather small and dark, no bigger than a Sabal Palmettos.
Maybe if I can't identify them as seeds, Someone will know if they look different as seedlings, so I know before they are decades old! 
 


By teddytn

I started these three rostratas from seed in 2014, at that point I was in the hunt for any cool looking plants that would survive in Tennessee. I had no idea if they would survive long term, but so far they have shown no winter damage over the years. Thought I would share some pics! The first pic is in 2015 when I planted them and the most recent is from last week.