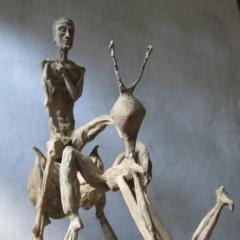 ---
Similar Content

By CLINODAVE

It was beyond sunny here in Hilo area yesterday.  So nice!  (this much sun has been a bit rare over the past year) I couldn't resist a pic of coconut and Clino fronds happy together.  Coconut has bunch of keiki beneath that I suppose will remain as keiki given the shade.




By Walt

The YouTube video below is a 2018 update of my green Malayan dwarf coconut palm that I've been growing for about 16 years now. My coconut palm actually fared very well from Hurricane Irma in September of 2017, but it was frond damaged by a frost I had this past February on the coldest night of the winter. I estimate my low temperature that morning (at sun up) was in the high 20s, as Lake Placid Elementary Schools STEM weather station (tied to weather underground website) recorded a low of just over 35 degrees, and I generally run 7-8 degrees colder since I'm in a low spot, and the school is on much higher ground up in town. I had some fear that the coconuts on my palm (that went through the winter) might not be good, but all the ones I've picked and ate were great tasting. They are small in size, but taste great just the same.  The video shows one of the coconut I opened and ate. I gave a neighbor a couple of coconuts and she loved them.
 


By PalmTreeDude

I believe this is naturalized, I found this when looking around on street view in inland South Florida. https://www.google.com/maps/@25.7612804,-80.8995018,3a,62.5y,351.69h,94.44t/data=!3m6!1e1!3m4!1sHWqyr5gpKPWrnnVv8ObX2A!2e0!7i13312!8i6656


By Jake

So I'm planning on moving to the Emerald Coast after I finish my EMT-P. From what I've seen, it's mostly Cabbage Palms, Canary Island Dates, Windmills, and some California Fan Palms. 
The area seems to have most everything I want, but I find it slightly upsetting that Cocoa's cannot grow there! I did some research on the subject and found that Pensacola and Panama City are both 9a USDA zones. Not surprising at all.
Now this is what throws me off; Multiple websites I have seen say that Coconut Palms are "..great for growing from 9a to 11.." Is this information just plain wrong? I'm just confused as to why no one would plant these in the panhandle if they are able..?
Thanks for your time,
- Jake




By LF-TX

Another snow survivor! This coconut was found on Palm Blvd in Brownsville TX. Not sure what variety it is, anyone wants to give it a shot? 
Sorry for the quality of the picture, will try to get a better one soon.