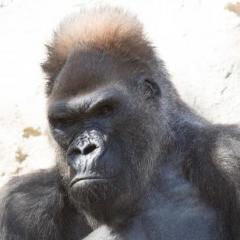 ---
Similar Content

By PalmatierMeg

I have been growing this unknown Chamaedorea for a number of years. It is a clumper with long, skinny stems and I suspect it belongs to a species of "bamboo palm" Chamaedoreas. My problem is I have trouble differentiating between species of bamboo palms. This little darling is a female and this year is loaded with green seeds. Right next to it is a (male?) hybrid Cham named after the late Dick Douglas, which I featured in another topic. Closely related Chamaedoreas sometimes hybridize but more distantly related species won't.
Can someone tell me what species my clustering palm is? And also tell me whether it might be possible that my Douglas hybrid is male and might be the pollinator of my mystery palm's seeds?
Mystery Chamaedorea with seeds



By K2HI

Can anyone ID this palm?  It is growing very well near Pacifica, California. My daughter and son in law just bought a house nearby and would love to plant one. I've informed them that if this is a date palm (what species/cultivar?) that this is probably a very old tree. I would like to get a positive ID on this as I think it is a magnificent, absolutely gorgeous palm!  I wish we could grow date palms here as we love dates, and date palms are really beautiful, but our collection of palms is growing fast. Mahalo nui loa for your help!



By Xerarch

Don't get me wrong, both Washingtonia are beautiful and worthy palms, and both do well in my climate, although filifera does not look its best here. It's just that they are so common and can be weedy. So anyway I won't buy one, but would I accept a free one as a volunteer in my yard? I have been telling myself no, but I don't know, they grow so fast and won't keep me up at night during cold events. I can't fill my yard up with only tender stuff, so maybe I leave it. Well, the spot where it came up isn't any good, I'll have to transplant it if I keep it. 
 



By Tracy

I have a number of Aloe species growing in my front area and often get volunteers from some of the smaller ones, but this particular plant looks different than the others.  The primary one that I get seedlings from is my Aloe microstigmas.  I actually assumed this was just another one when it first started to come up, but its leaves are much thicker.  I've dispersed seeds from some of my larger species, such as Aloe ferox, africana and marlothii, and while this does remind me some of small ferox and marlothii, neither of them match up to what I remember mine looking like as small plants.  So perhaps its a hybrid given the numbers of Aloe species I frequently have in bloom at the same time.  Bees and humming birds love all the Aloes and will travel from plant to plant.  I'll probably be excavating this to pot up soon, as its growing in a spot I don't really want it to.  I'm curious if anyone has any small A ferox, marlothii or africana that they have photos of for comparison as I don't recall what mine looked like when at this size.



By PalmatierMeg

Below is a photo I took at Naples Botanical Garden of this nifty Begonia-like understory plant last August. Can someone tell me what it is? I would love to find one.
Begonia ??