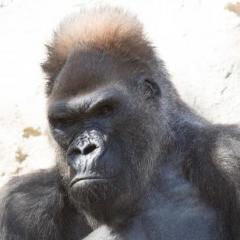 ---
Similar Content

By Dimimelbourne

It's been getting slightly warmer here in Melbourne, so I thought I would take the opportunity and give some of my indoor palms a shower. 
It's been a pretty hectic year and I haven't been as vigilant as I could have been. Unfortunately my C. Renda looks like it's been a snack for some kind of pest over winter. I gave it a really good spray with the hose so I'm hoping that bumped most the pests off. I'll try and do this more regularly now that it's warmer. 
I repotted my Licuala ramsayi earlier this year, it was in some very dry soil mix and when I took it out of the pot, all the media just fell away from the roots. I tried to pack in as much soil around the roots as possible but I think many of the roots weren't able to get enough water. I lost most the leaves but it's slowly growing back in which I'm so happy about.
The Burretiokentia was given to me by a friend nursery owner. It had been on a steady decline since it got to them (probably the shock of coming into our temperate climate.)  I am hoping it's going to start showing some signs of bouncing back now it's getting warmer… or at least until I move to Cairns in 4weeks!
 I keep these tropical palms indoors in a heated room, they have large west facing frosted windows and my C. Renda usually sits in a small tray of water.
Please feel free to share comments or experiences of your own on this :-) 
 






By AZ_Palm_Guy

Just as the title states, just looking for some green bismarck seeds or seedlings. If anyone has or knows where to get some please let me know. Willing to pay for shipping and palm of course. 


By TheMadScientist

October 2011, I had purchased this from a "Palm Talker".  It seemed to take a couple of years  before it was showing any growth.  I liked the 24 deg. F low, no weapons, it could take the heat / low humidity I have to deal with.  My current photo is more of a close up as it has a large P.  Theophrasti dominating attention behind it.  The "corn cob on a stick" looking seed pod presented itself last year, but I didn't see any pollen being offered to it.  This year the seed pod was fully developed, but again, I wasn't seeing the pollen contribution.  The last week of September, individual seeds would raise from the cob, then get released.  The seeds collected look like Halloween Candy Corn and that fruit is easily removed.  I had concerns that these would not germinate, but in the last 3 days.....4 of the 21 seeds sown have started The Circle of Life.  7 weeks to germinate in my converted ice chest, 40 watt drop light, lid raised 1" and it sees 80-85 deg. F 24/7 which I water each day due to evaporation.






By Tracy

Whenever I look up photos of Burretiokentia hapala inflorescence they all look pretty much the same in structure; that they branch near the base stick out and have varying degrees of wiggles much like what the one below.  I've seen plenty in person that look the same.  But not one of mine.  I posted photos of the other one in a different thread I had started but due to the subject matter being different I didn't hear responses from others if it fell with the "normal" or typical spectrum.   This is what I expect from a Burretiokentia below:



By Marc

This post is simply a suggestion for the site.  I am an amateur (home grower) that monitors the for sale/trade category, and one of the things I find annoying is that someone selling a palm will specify local pickup only.  Of course, that's quite reasonable from their perspective, but not really an option for me unless that person is located in northern california (unfortunately for me, 99.8% of these posts are in any one of a number of southern california communities, any one of a number of florida communities or texas) - as a practical matter, these communities are not accessible to each other as well - the problem then gets exacerbated when a grower (typically commercial grower) uses the forum as a product list with one entry for each type of their 47 palm species for sale (i.e., all for local pickup).  The effect from my perspective when there are a sufficient number of these posts is that it converts the category into a regional topic only, with subject matter unavailable to me (and others).  My suggestion is simply that under the topic for sale/trade that there be separated categories for local pickup only (perhaps for tags by region) and for sale via mail.