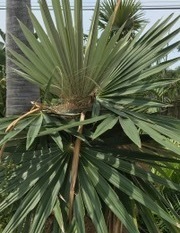 New Seed Offer 08/16/21
By NatureGirl, in For Sale

---
Similar Content

By Cindy Adair

I will show some seedlings now grown large enough to plant in an area devastated by Hurricane Maria in 2017. To start here is a view prior to Maria:
I had not lived on this farm long before the landscape changed dramatically.


You might notice that along with multiple landslides, some tree ferns fell on my power line and partially uprooted a concrete pole. There was no rush to repair the line/pole issues as my area was off the electric grid for 5 months.
The initial "repair" (after I climbed that slope and cut down the tree fern trunks) was to hire a retired electrician who tied the line to the leaning pole with a single nylon rope I had purchased for a hammock.
Well, more than three years later, I finally found the right person and decided to fix the issue properly, burying the line and removing the unneeded pole. Better late than never. I also have a big sturdy shade house as my bent $99 carport canopy (partial frame above in white) clearly was not the best long term option.
As expected, the digging to bury the line late last year created a muddy mess, but was well worth it.
My view is now better than before and I have new planting areas! 
I will add more individual photos over the next few days and some overall views with an idea of future posts documenting them as they grow up. 
Here is Geonoma sp. "Entire Leaf"

Licuala triphylla

Basselinia eriostachys

More to follow....
 


By PalmatierMeg

Back in October I made a decision to repot my rare palm container garden in a new potting mix: ~50% coco coir, 25% garden soil, 25% perlite.
I had experimented with coco coir after reading good things about it because no matter how hard I tried to create a potting mix that was loose, light and well-draining I eventually ended up with heavy, wet muck that promoted root rot. Coco coir weighs a fraction of soil, drains well and while my project is still early my mix is easier on palm roots. And on me - lugging large pots around is so much easier now. I started my repotting project with some of my miscellaneous potted Chamaedoreas. Things went well until early Nov when I contracted covid-19 and was laid up until early Dec. Two weeks ago I was able to go outside when the weather was warm, so I picked up where I left off. I've completed all but the largest of my potted palms and hope to complete them by the new year. 
Today I took photos of some of these palms before the latest Arctic cold front hits Christmas Day. I'm still contemplating how/if to protect and/or move them if the lows drop below 40F. Right now most of them are green and happy.
Heterspathe salomonensis

Chamaedorea deckeriana

Johannesteijsmannia altifrons

Licuala montana

Hydriastele affinis

Licuala peltata v sumawonga

Calyptrocalyx sp

 
 
 
 
 



By Matt in OC

Any hope in straightening out this leaning Bentinckia condapanna away from my walkway and saving it from my wife's wrath? 



By Justin

Today was my first day back in Leilani Estates since mid-June.  I was here right after the eruption started, and for the first week or two, the garden looked perfect, not even a hint of damage.  I had to leave for a couple weeks, but then came back in late May and stayed until the second week of June, and during that trip there was noticeable damage to a couple palms, including the Wettinia and the Mauritellia.  Several other plants also looked damaged and/or stressed on that trip.  So when I came back this time, I was hoping for the best and expecting the worst, but not really knowing where on the spectrum my garden would fall.  Overall, the garden looks pretty good, considering it was pelted with tephra, Pele's hair, and acid rain for three months. 
But unfortunately, of the deceased, three of the palms that succumbed just happened to be three of my favorites, and coincidentally all with blue crownshafts.  The Socratea, the Wettinia, and one of my two Dictyocaryums are no more.   I have one remaining Dictyocaryum that actually looks pretty good - I can only assume it's spot underneath the Banyan tree saved it from some of the gases and/or rain.  If anyone knows of any sources with any of these three species, I'd be happy to know, as I'd like to replant ASAP.
I lost a Lemurophoenix as well, but it was declining earlier this year before the eruption started, so I can't fully blame the volcano.  My other Lemurophoenixes are all much worse for wear, but I am cautiously optimistic, as they each have one green frond and one emerging spear, so hopefully they're on the road to recovery.
Dypsis species all range from little damage to no damage.  The same goes for the Pinangas.  Most of my dicot trees don't appear to have any damage at all, and if anything have shown increased growth (although that could have just been because it was summertime with more sunlight).  The bamboo doesn't seem to have skipped a beat either.
So I know I should be happier, but it just sucks when the victims are not easily replaceable.


By Cindy Adair

First I was busy (and still am) dealing with a move within PR and hurricane Maria and no utilities for a few months. Then concentrating on getting my old VA house sold and heading for the Biennial and then a couple of days after my return just slammed by the flu! Hence some of my reasons for so little time posting here. Never boring.
Happily now I am down to just mostly good "distractions" like having fun on my 15 acres of gardens and jungle.
Before I get back to predawn cutting shelf paper for the finally replaced water damaged kitchen cabinets, I will show you a few cameos from some plants in pots still awaiting their turn, as well as those finally in place - with some mostly tree fern canopy back.
Then I will try to add more photos as I can.
First here is Genoma cuneatum which I was very pleased to see in Colombia on the Biennial. It is hard to describe the very interesting feel of these corrugated leaves!

I do have a very similar Lemurophoenix in the ground now (that I grew from seed), but this one had the pretty new leaf.

Here is one of my favorite Pinangas sold to me as "Thai mottled" big enough by my standards to go into the ground when I find the best spot. I believe my old one (that struggled mightily with my move and then hurricane insults plus a lost label) has made it too in the ground, but not yet ready for a photo.
Below is another always pretty palm Pholidostachys sold to me as just "sp." It survived transplantation and seems on its way.

I lost the label for this next beauty and sadly its twin did not make it. I think this is Genoma conduruensis grown from a tiny seedling.
Please if you see errors in names or spelling I am quite appreciative of corrections!
Also if you have photos of any of these please add them, thanks!

Last for now is Calyptrocalyx sp. Puah with its new bright red leaf settling in the ground.