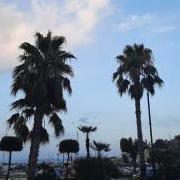 ---
Similar Content

By TheMadScientist

October 2011, I had purchased this from a "Palm Talker".  It seemed to take a couple of years  before it was showing any growth.  I liked the 24 deg. F low, no weapons, it could take the heat / low humidity I have to deal with.  My current photo is more of a close up as it has a large P.  Theophrasti dominating attention behind it.  The "corn cob on a stick" looking seed pod presented itself last year, but I didn't see any pollen being offered to it.  This year the seed pod was fully developed, but again, I wasn't seeing the pollen contribution.  The last week of September, individual seeds would raise from the cob, then get released.  The seeds collected look like Halloween Candy Corn and that fruit is easily removed.  I had concerns that these would not germinate, but in the last 3 days.....4 of the 21 seeds sown have started The Circle of Life.  7 weeks to germinate in my converted ice chest, 40 watt drop light, lid raised 1" and it sees 80-85 deg. F 24/7 which I water each day due to evaporation.






By Tracy

I pulled some of the purple seeds off my Burretiokentia hapala, cleaned them and dropped them in a zip lock baggy with some damp perlite and sphagnum moss.  I'm using a little heat, wrapping the bag in foil and leaving it on top of my water heater).  I'm curious what typical sprouting time is on this species if anyone has used this technique with this species. 




By GardnerDylan6a

Hello I was wondering if anyone knows a good way to germinate Ptychosperma elegans seeds, thanks


By GardnerDylan6a

Hello I have some sun dried Queen palm seeds with what looks like the seed pulp still attached and I was wondering if anyone knows what my next step should be to germinate them.



By Rd003

Recently acquired some A. crispa seeds and cracked the outer shell (I've heard it helps shave lots of time off germination). Does anyone have success with any specific methods or know how the endocarps themselves like to be treated? Any advice  would be much appreciated!