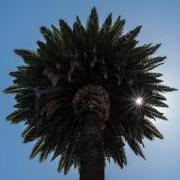 Coachella Valley Preserve / Thousand Palm Oasis, California
By GoatLockerGuns, in TRAVEL LOGS

---
Similar Content

By GardnerDylan6a

Hello I was wondering if people could share how they germinate W. Filifera and Robusta seeds, I am wondering what the ideal temperature for germination is, as I have my Filifera seeds in a pot at room temperature with the soil at around 67 F, will they germinate?



By GardnerDylan6a

Does anyone know the cold hardiness of w. filifera in proportion to it´s age or trunk dimensions, also does anyone know if the location of the tree dramatically affects the cold hardiness of it´s seeds


By Mr.SamuraiSword

Was passing through Macon Georgia last week, and was surprised at some of the palms. Spent around an hour driving around. One place called AP's Hidden Hideaway Restaurant on 4275 Broadway Dr, had some tall Washingtonia Robusta, especially for interior GA.  Quite a bit of winter burn, 30 - 50% of fronds were fried, most fronds had some burn.

Tallest ones here,

Some of the worst burn on these,

These three seemed more like filibusta. thicker trunks and all, and considerably less burn.

Couple more, volunteer on the bottom right.

In Washington Park in downtown Macon, were a couple very old Sabal Palmetto, I talked to a few people in a palm forum on FB and they said those palms were there and around the same size 1980s, so these were probably planted at least in the 1940s

Love that Lolipop Look.


Quite a few volunteers in the park, two of which were adult palms.


Across the street from this park, was another large volunteer, growing in a sidewalk.  Shows how long the old ones have been there.

Quite a few other interesting palms around town, the Hideaway also had quite a few Chinese Fan palms, mixed in with pindos and Washys.




Plenty of nice pindos around too.


Nice one in Downtown

Plenty of other great sabals around too.






Lots of nice Trachycarpus around, but only got to take photos of these two big ones.


Young Washingtonia in downtown, looking great.

Small Chinese Fan in downtown,

The Hideaway had tons of large Sago Cycads too, total of over 40 sagos at least.




One even naturalizing. 

Speaking of volunteers, the downtown region had plenty of sabal volunteers, clearly palms have been present for quite some time.




More Sagos around town, plenty of big ones.




Keep in mind I only looked around for about an hour, so this is only the tip of the palm iceburg in Macon



By UK_Palms

As an avid Washie fan who has been following their growth over here in the UK for several years, I thought I better compel a photo journal showing the biggest specimens over here and their growth rates. It appears that Filifera does perform better than Robusta here, in regards to cold hardiness. There are many more mature Filifera's around than Robusta's for instance, although Washingtonia in general does good in London and the south coast of England. As you move inland however, you will only see Filifera or hybrids.
I'll start with what I believe is a pure Robusta at Peter Cavendish's home in Earl's Court, London. The first photo was taken in 2014...

And again in 2020...


 
Next we move onto another very impressive specimen. A Filibusta hybrid in Wimbledon, London. This was grown from seed in I think 1997 and it looked like this 10 years ago...

And this is what it looks like now...


 
Next up is what is probably one of the biggest Washie's in the UK, certainly on the mainland at least. It is located at Minster-On-Sea, which is about 20 miles east of London. This one is almost certainly a Filibusta hybrid too. I think the trunk is a little bit too fat to be a Robusta...?
Here it is in 2009...

And here it is now...


 
Many of you have also probably seen Dave Brown's Filibusta hybrid in Kent, which looked like this back in 2007. He did a few videos on it surviving snow and cold winters...

Well this is what Dave's washie looks like nowadays... 


 
Robusta's or Filibusta hybrids in Richmond, London near to Kew Gardens. First picture from 2012...

And then 7 years later in 2019...

 
Another Filibusta hybrid in Little Venice, London... shown back in 2013...

And then 7 years later, now...

 
I think the one in Chelsea Physic Garden, London is also a Filibusta hybrid. Here it is roughly a decade ago...

And again in 2019...


 
Probable Filibusta hybrid in a front garden in Southsea, Portsmouth. Here it is back in 2011 looking tiny...

And more recently in 2020...


 
Now onto the Filifera's, starting with Barry's one in Edmonton, North London, which is possibly the biggest Filifera in the UK now at 30 foot tall. Here is his Filifera about 15 years ago...

And this is how Barry's Filifera looks today!



 
The other contender for the UK's biggest Filifera is the monster at Canvey Island, just east of London. It looked like this back in 2009...

But now it looks like this...




 
Here's what looks like another big Filifera growing in Chingford, Essex. First shown in 2011...

And then fast forward 9 years to now...

 
There's another decent sized Filifera in Dulwich, London as well, which looked like this in 2008...

And looks like this now...

 
There appears to be a Filifera growing in a front garden in Thorpe Bay, Essex. You can just about see it's fronds back in 2009...

But it looked like this a decade later in 2019...

 
Another big Filifera on the Isle of Dogs in East London...


 
A Filibusta hybrid, or possibly a Filifera, in a Wimbledon back garden...



 
Another Filifera at Battersea Park, London...


 
Filibusta hybrids at Sandsfoot Gardens, Weymouth


 
Growth on a London street Washie from 2014...

And then fast forward to 2020...

 
There were a number of 5-6 foot washies planted at Ventnor Botanic gardens, which looked like this after the bad winter of 2010...

And this is them in recent years, a decade or so later...






The Abbey Gardens at Tresco has by far the tallest Washie in the UK with a 45 foot tall Robusta... however I don't have any 'before' pictures unfortunately...

 
Tresco's Filibusta hybrid however has gone from this in 2011...

To this now...

 
Lastly, some big Robusta's at a private facility in the Docklands in east London. This place is supposedly used for hosting business magnates. Quite a weird location to place them. Here they are shortly after planting in late 2017...

And then about 6 months later...

9 months later they're looking nice and healthy. The tallest Robusta's must be about 30-35 feet tall.