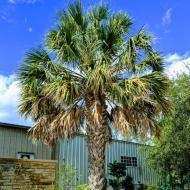 ---
Similar Content

By teddytn

Dwarf sabal minor, 19" tall. There's 4 flower stalks at various stages of development Sabal minor mccurtain, first time flowering. I can stand on the upper bed to the left and the flower stalk is over my head, it's easily 8' tall now. 2 flower stalks Sabal Birmingham 3rd year flowering, 3 flower stalks, same every year so far always 3


By DreaminAboutPalms

I germinated a pair of Sabal Bermudana seeds about one month ago (first pic is from May 1) and sowed then after and have had them covered to keep moisture in and on a heat mat. Still haven't seen anything pop up above surface of soil yet and I'm wondering if they might be dead or are just really slow 




By GoatLockerGuns

I have a plethera of extra germinated Sabal sp. 'Praha' seeds to give away.  I had near 100% germination from the seeds I collected at the Praha, Texas site back in late February.  If you are not familiar with the ongoing Sabal sp. 'Praha' discussion, see the Palmtalk thread below:
The extra germinated seeds I have are from the palm I labeled Sabal sp. 'Praha' #5 in the aforementioned post.  It is the palm currently thought to be the oldest at the Praha site by most who visit there (the rest are probably volunteers).  Reports of these palms in the Praha area go back to the 19th century.  In a nutshell, there is some mystery regarding what species of Sabal these palms actually are.  The seeds produced are too small to be Sabal mexicana, and larger than most Sabal palmetto specimens.  I am willing to ship for free to the lower 48; just agree to give them a good home.  PM me if interested (first come, first serve).


By teddytn

This may seem odd. Everyone pushes the envelope with the palms they plant, like how far north can you grow a coconut palm etc. What about the opposite? If I moved to Hawaii of course I would jump both feet in with all the tropical palms I could get my hands on, but I would definitely plant all the cold hardy palms I'm a fan of now too. To me it would be cool to watch the growth rate of a cold hardy palm in a tropical environment. Anyone have sabal minor, sabal palmetto growing in paradise? I would love to see pics!!!


By Ernest

Hello, 
For you my new palm is a livistona or a brahea edulis?
Make the difference is hard for young palm. What is the main detail ?
Thank you .