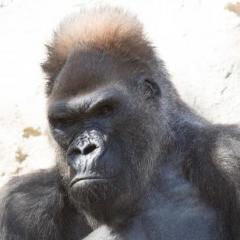 ---
Similar Content

By Tracy

I acquired this orchid prior to moving into my current home which is why I know it was at least 6 years ago that I bought it.  It has been a decent grower and the original plant has turned into 3 mountings in different areas in my garden.  Despite the plant growing fine, it never has flowered in those years.  About a week ago I noticed two unopened blossoms so I started checking on it daily.  Yesterday morning the first flower finally opened.  It didn't disappoint last night either with the fragrance noticeable from even just one open flower.  Thus far this orchid has required the most patience to get a bloom of any that I have grown.  I have a few others which I have had for a couple of years less that still haven't bloomed yet, so it may only hold the record temporarily.  Obviously I'm hoping it retains its record for my garden, as I want the others to bloom!





By Tracy

I noticed something discolored part way down one of the stems of my Maxillaria elatior today.  I thought it was a dead leaf that had dropped down until I looked more carefully.  The flower emerges from between leaves with no stem.  I then noticed many more blossoms yet to open.  What a wonderful find!  Obviously this is the first time blooming on this plant for me or I would have known what to expect.




By Tracy

I acquired this Aerides racemosa last year, and this is the first time blossoming in my garden.  I love the pendant flowers and interesting arrangement of the foliage.  There are some other very colorful orchids in the Aerides genus.  Anyone growing one of the other species within the genus?  I would love to hear how tolerant of different climates these are.





By Tracy

I have been enjoying this Olfactory delight when I walk down the side of my house where this Rhyncholaelia digbyana is hanging with its blooming spring flowers.  What Olfactory delights are you enjoying?



By Tracy

In that many of us palm lovers have extensive collections of Madagascar native palms, it seemed appropriate to add this orchid to the garden in that it too is native to Madagascar.  It is the first of this genus that I am growing let alone this species.  Will be interesting to see how it performs.  The recommended light from the grower was "bright", but I see information that this species grows in full light at high elevations ( up to 1500-2,000 meters) in habitat.  Anyone else have experience with this species or the genus in general?  If you have photos, please share, particularly of any flowers.