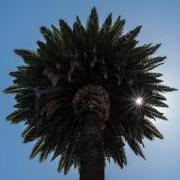 Caloosahatchee Regional Park, Lee County, Florida
By GoatLockerGuns, in TRAVEL LOGS

---
Similar Content

By GoatLockerGuns

So, I have always understood that Sabal species need to have a portion of their heel showing above the ground line when young.  Other palm growers have told me this, and the Palmpedia entry for Sabal palmetto even says the same thing; namely, that "…this is a tillering palm, it exhibits saxophone style root growth (it has a heel), keep top third of heel above soil elevation" (http://www.palmpedia.net/wiki/Sabal_palmetto).  I have always followed that advise for the Sabal species I have grown (S. palmetto, S. mexicana, S. minor, S. causiarum, and S. uresana), and I have kept a good portion on the heel above ground level (both planted in pots, and planted in the ground).  I have had success in most cases; however, I have come to question the necessity of that "conventional wisdom" recently after a trip to visit my father in Cape Coral, Florida last Christmas.  We went to J.N. Ding Darling National Wildlife Refuge on Sanibel Island for a hike and, while there, I paid close attention to the young Sabal palmetto palms that were growing all over the place.  I must have inspected over 60 juveniles, ranging from new seedlings, to palm frond heights of 3 to 4 feet.  I could not find one young Sabal palmetto that was showing a heel.  Most of the juveniles without trunks had their petioles growing straight out of the ground (or sand as the case may be).  Since they are growing wild in habitat, I figure this is how they normally grow.  Below are a few pictures I snapped there depicting this.  Do any of you have thoughts on the necessity of showing heels on your Sabal species?






By edbrown_III

Looking fer Sabal etonia plants or seeds 
 
contact me 
Ed Brown ---- 


By KsLouisiana

So we live in Lake Charles, La. Recently devastated by hurricane Laura.  While driving around I noticed a fairly large palmetto tree in the ditch that someone removed from their property (4ft trunk). It looks like it will transplant pretty well.  I have a few questions from the experts. Does anyone have experience moving these? How much would one with a 4 ft trunk weigh? Because we would probably have to pick it up by hand to get it in the bed of the truck. ( two 30ish year old guys) 2nd question. Does it look healthy? I feel like it's in perfect shape. Haha. Well any tips and advice would be greatly.  I will attach a picture.  Thanks!
Kurt
 



By PalmatierMeg

I have 3 unusual Sabal seedlings for sale as a lot. The first one in a 4" pot lost its tag a while back. I suspect it may be a Sabal minor Blountstown Dwarf by its size and coloration BUT I don't know for sure. It is 2-3 years old and still strap leaf but is ready to go into a larger pot or the ground.
The second two seedlings are from seeds I collected in the spring of 2019 when I visited Rotary Park in far south Cape Coral. I walked along the park nature trail, then saw some strange looking trunked Sabals in the wetlands off the trail. They were large and quite old and their leaves did not look like typical wild Sabal palmetto. Leaves were unusually flat and pinnae cut very shallowly. I saw a number of these palms in that vicinity - a whole population. Rotary Park has been around for decades but I wondered if these old Sabals were a remnant of a separate species planted by man or natural occurences. As Sabal seeds ripen in late fall here, most of these palms were bare of seeds, but I managed to pluck some leftovers. I also took a raft of photos to post here but no one offered any ideas what these unknown Sabals may be. Anyway, 3 of the seeds germinated for me last year so I am keeping one plant and selling the other two.
Mystery Sabal Seedlings x3: $15.00 for the lot
Shipping = $10.00 via Priority Mail          No shipping outside the US. No shipping to HI
TOTAL DUE = $25.00
Payment via Paypal
PM me if you are interested
Photos
Mystery Sabals x3

Mystery Sabal #1

Mystery Sabals #2 & #3, Rotary Park, Cape Coral, FL

Rotary Park Mystery Sabals, 2019

 


By Dimovi

Here are some Sabals with massive crowns. They are at the University of Texas at Austin campus.
Wanna guess what kind they are?