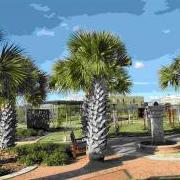 ---
Similar Content

By PalmatierMeg

I posted photos of these four seedlings a couple months but I'm still not sure what I have. I got seeds of these palms from Australia back in 2019 and the seller IDed them as "Ptychosperma unknown species" with large leaves and large seeds. When I say "large seeds" I do it with Ptychospermas in mind. I can't remember exactly what the seeds looked like except they were elongated and approx. 3/4" to 1" long and 1/3" to 1/2" wide. One PTer suggested they might be Veitchias. My seeds source seemed knowledgable enough to tell the difference between Ptychospermas and Veitchias, but who can say if he was? I took photos of the largest palm. Notice it has black speckling and a lot of tomentum but is that a shared trait of Ptychos and Veitchias? Seedlings are robust and fast growing. They sailed through my winter carefree and without protection.
Ptychosperma or Veitchia?



By PalmatierMeg

Today we stopped at our local deli for lunch. As we were leaving I noticed two large Phoenix palms on each side of the driveway. One was loaded with seeds while the other, a male, was not. The fruits were still green and were 1" long x 1/2" wide. The seeds are 3/4" x 3/8". The Phoenix genus is not my favorite but these two palms were spectacular beneath the sunlit sky. They have been cared for and pruned judiciously and were perfect. I saw no other Phoenix palms nearby. My question is: Can anyone tell me what hybrids these two palms could be (almost all Phoenix in FL are hybrids)? Is anyone interested in seeds when they ripen? If the offspring take after the parents they should turn out to be awesome palms. I hope everyone agrees. I took the following photos:
Phoenix species/hybrid
Fruit and seeds

Male palm

Seeding Female palm

 


By PalmatierMeg

I germinated these seedlings several years ago. They are still tiny but hanging in there. I still have dozens of them. I believe they are D. madagascariensis v mahajanga but I need confirmation from a Dypsis afficionado. I got the seeds from @NatureGirl back in 2018 or so. They are maddeningly slow growing as some Dypsis are but are surprisingly resilient. They stay outdoors in the shade year round and get no protection from the elements. I have dozens of them I am looking to sell as I don't have time and energy to keep herding them around.
Are these D. mad v mahajanga?



By PalmatierMeg

Can anyone confirm the ID of the seeding Zamia in the photos below? Could it be Z. loddigesii x pumila? Something else?



By Tracy

Thoughts on id? It started to lean then sprouted the new growth point which is primary now.  It had what appeared to be the second small seedling near the base when I bought it, which has been slower than the new growth point.