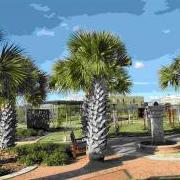 ---
Similar Content

By PalmatierMeg

About 10 years ago when I was trying to replant my back yard jungle, I bought a 3g Burretiokentia hapala to plant in it. I soon realized my FL sun was way too brutal for the little guy, so I set up a makeshift shade structure for the rest of the season. I kept a number of juvenile A. cunninghamianas as backup plantings and before the next summer I strategically placed several of them around my little Burretiokentia. Fast forward 5-6 years and what I believed to be my slow growing hapala croaked. By then I accepted palm deaths as part of palm growing so I shrugged and figured the picabeens would carry on. I took a really close look at one of them and realized it looked different. Its fronds were a dark green, not picabeen lime green and all the rachises had a "twist" in the middle that tipped each frond almost perpendicular to the ground. Piccabeen fronds lie almost flat and perpendicular to the ground. This palm's crownshaft was a deep emerald green and its skinny trunk brownish-green with prominent leaf scars. Picabeen trunks are gray.
"Wait!" I said to myself. "Did my B. hapala actually survive and grow lurking among the picabeens?" Then I studied the twisted fronds and wondered, "Is this palm actually a Ravenea?"
Because years ago I planted several species of Ravenea in the jungle, including R. hildebrandtii - but no majesties. As time passed, all of them bit the dust. Or so I thought.
Can anyone tell me what this very handsome palm is?
Mystery Palm



By Tracy

I was up the hill from my house taking photos of the sunset and decided to take a picture of this Butia in my friend's yard.  I haven't asked him how old it is and if it was there when he bought the house in 1978.  Which Butia is it?  Sorry I didn't go around to the backyard to get a better photo including the trunk.




By Pablo Palma

Hello everyone, recently joined new member. Very nice to meet you all!!
Could you help me with an ID for this palm? My first guess was Adonidia merrillii but somehow just looks different to me. What do you think? I can add details of trunk, fruits, inflorescences and leaves if required. Thanks.




By Teegurr

I saw this palm on my walk today. I'm thinking it's a butia? Let me know what you guys think. I appreciate the help!



By Tracy

I don't even remember now, at which So Cal Palm Society meeting auction I bought this Dypsis.  I do recall it was solitary and probably no more than a 1 gallon when purchased.  I dropped it in a shaded spot under a Burretiokentia hapala, probably anticipating it would be a smaller gauge trunk and continue taking advantage of the Burretiokentia's shade.  It has since produced one new subterranean offset from the main trunk.  Any thoughts on which fine leafed Dypsis this is?  Markings on the trunk should be a clue.