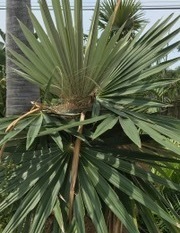 Dypsis leptocheilos seeds?
By NatureGirl, in For Sale

---
Similar Content

By NatureGirl

Just checked my baggie of Teddy Bear's, and Planted  all I want. Some leftovers. 50 Sprouts/$15( plus shipping). Sent in moist spaghum.
Beachpalms@cfl.rr.com



By NatureGirl

Just picked up a bunch of Teddy Bear Palm Seeds. $6.50/50 or $10/100 Plus Shipping. $4-$5 US
Beachpalms@cfl.rr.com
 


By rhallford826

Hey all! I have several 15 gallon Dypsis leptocheilos available, nice size! Asking $150 each, most are grown in full sun in Newbury Park, CA (91320).  These palms have never seen a greenhouse, they have been grown outside and are fully acclimated. Most are around 5 feet tall planted height. Pick up only, no shipping available. Text me at 805-813-3999 or PM if interested, thank you
 
 




By NatureGirl

I also have Dypsis leptocheilos (Teddy Bear Palm) seeds for sale $6.50/50 or $10/100 plus $3.50 US Shipping
Beachpalms@cfl.rr.com or send PM
Thanks.



By DoomsDave

It's amazing what you'll find rooting through your old pictures.
I found this picture of my famed Teddy Bears when they were about three years in the ground and still small, in 2009, contrasted with 7 years later, today.