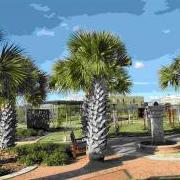 ---
Similar Content

By Teegurr

Insane day for weather, we got 4+ inches of snow!
1. Butia odorata
2. Phoenix dactylifera
3. Phoenix canariensis
4. Ravenea rivularis






By Ozzello

Got a couple thousand Bismarck seeds from a mature female right next to a male. Some of the seeds were still a tad green, but all were ripe, and the embryos filled the nut shell, though they all had a small hole in the center of the embryo I don't see in other palm seeds,. Does anyone know if this is normal?
 I soaked a couple hundred fruit and all, and set the rest aside in #7 pots for a few weeks till the fruit loosened up. Now I am cleaning the fruit and soaking , and getting 100% floaters. Opened a couple and the embryos are receding from the shell and the space  (between embryo & shell) has a bit of white fuzzy look. Anyone know what I am dealing with here?
 Should I just clean them all, soak and attempt to germinate anyway? Hate to waste 100% of my time when I could dedicate the space and labor to easier trees to grow, but even if I can get 20% ish , I don't mind the work.


By Teegurr

This is a nice CIDP I spotted on Lawyer. I'm not sure of the age - much appreciated if anyone can guess.