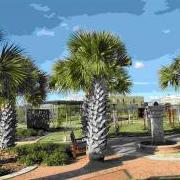 ---
Similar Content

By Alex37

Hi everyone, I'm new to the forum, I'm looking for butiagrus seeds (Butia x syagrus r.), I live in Italy, is there anyone who has them?


By Coasta

Hello all! Just wanted to get your opinion on what could be causing my canary island date palms to have dark/ burned looking spots on each rachis that has come out this summer? 
The palm seems to be very happy as it has put out quite a few new fronds, just curious. 


By CodyORB

Apologies for the terrible Google Street View resolution. This is Nye County, zone 8a with annual lows in the 10-15F range. Apparently CIDP's are hardy to only 15-20. Having visited the area a number times they've been around for more than a decade, possible 2. Not irrigated either, surviving on only around 4" of rain annually!


Also surprising is the area's routine exposure to below-freezing temperatures, for up to 4 months out of the year (although it warms up quickly when the sun rises).

I'm left to guess there's either an ideal microclimate (although not anywhere near a building), or they're better at resisting "dry" cold (relative humidity in the 5-15% here, very high diurnal temperature range).


By palmie

I have a mature Canary Island Date Palm that needs fertilizer badly.  The margins of the fronds are turning yellow prematurely. I finally got the right fertilizer, but I'm not sure how to apply it.  The instruction says to apply it to the area under the canopy.  But the area under canopy are mostly hedges and grass. What do I suppose to do? 
Apply the fertilizer to the hedges and grass and hope that the wrong fertilizer won't kill them and some will make it to the root zones of the palm??  
Alternatively, skip the hedges and the grass, apply only to the Root Initiation Zone (RIZ) of the palm wherever possible, including the dormant aerial roots?
I'm in South California.  The fertilizer I initially ordered was Palmgain, but it never arrived.  I went to a local store and got Palmtone (organic 4-1-5) and Epsom Salt instead to mimic Palmgain.  Since Palmtone is organic, I'm assuming it's ok to apply close to the trunk where the RIZ is.
Any help would be greatly appreciated!




By CodyORB

I had a CIDP seed and 3 P. Dactyliferas  germinate roughly a week ago after spending 3-4 weeks in a moist perlite plate outside in north FL. I moved them into holepunched cups filled with a well-draining cactus soil kept moist to finish germination (+minute amounts of fungicide). When can I expect to see something pop up?