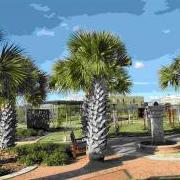 ---
Similar Content

By Darwinpalmlover

Hi all...I am looking to see if anyone has any fresh C.Renda seeds available.


By GardnerDylan6a

Hello I was wondering if anyone knows a good way to germinate Ptychosperma elegans seeds, thanks


By UK_Palms

London's resident palm video guy, RH Grows, recently uploaded a video of a strange palm at Lincoln Inn Fields in central London.
I'm not sure whether this is a regular CIDP, or some kind of CIDP hybrid? At first glance, it kind of looks like a Butia, but it's clearly a Phoenix of some sort. It almost looks like a Butia x CIDP hybrid, which is obviously impossible. The fronds and crown kind of have that Butia look, but it's clearly a Phoenix of some sort. Almost certainly CIDP, or hybridised with something like Dacty, Sylvestris, Rupicola etc.
One thing to mention is that the palm is also grown in deep shade, which I believe could effect the frond size/length, but that would not explain the strange crown and slim trunk. Something just seems very different about it. For all I know it could just be a regular CIDP though. I don't know what other people think it is...?
 
 


By GardnerDylan6a

Hello I was wondering if people could share how they germinate W. Filifera and Robusta seeds, I am wondering what the ideal temperature for germination is, as I have my Filifera seeds in a pot at room temperature with the soil at around 67 F, will they germinate?



By Glawyer

I have several canary date palms (phoenix canariensis) which are showing problems with pests.  The first one forms hard bumps on the leaf. I sprayed it pretty intensely with neam oil, but I don't know if it is dead (and just the skeleton remains) or if the pest is still active. What scares me is that I saw the same type of pest start to appear on a different phoenix about 100 meters distant. All told, I have 5 on the property, and I want to kill this pest before it spreads further... and especially before it gets into the big one, I have no idea how I'd spray anything into that beauty.

 
One of my other small phoenixes has these little black lines on its leaf. I'm sure it is another type of nasty bug, and would love some tips on how to get rid of it.

 
Organic methods are strongly preferred. Man-made poisons just linger too long in the environment and have spillover effects.