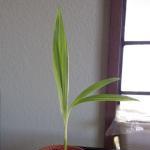 ---
Similar Content

By IHB1979

I have several palms that I would like to move. Palms are very healthy, but due to my reckless planting style when I got the palm bug, it's time to move some things around and let the palms breath.
Let me know your experience moving these.
Dypsis lanceolata, about a ring of trunk, 8' to top of crown
Areca triandra, couple rings of trunk, 7' to top of crown
Dictyosperma album, no trunk yet, 6' to top of crown
Veitchia joannis, 2' trunk, 12' to top of crown
Thanks!