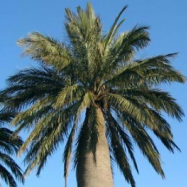 ---
Similar Content

By Rd003

Recently acquired some A. crispa seeds and cracked the outer shell (I've heard it helps shave lots of time off germination). Does anyone have success with any specific methods or know how the endocarps themselves like to be treated? Any advice  would be much appreciated!


By GardnerDylan6a

Hello I was wondering if people could share how they germinate W. Filifera and Robusta seeds, I am wondering what the ideal temperature for germination is, as I have my Filifera seeds in a pot at room temperature with the soil at around 67 F, will they germinate?



By SALOttawa

Hello,
I just joined the forum today. I have been growing palms for a few years now, but I have always brought them indoors for the winter. This year I decided to try growing 3 varieties of hardy palms: Trachycarpus Fortunei, Washingtonia Robusta, and Chilean Wine Palms. I bought seeds on eBay. I have found good instructions on the TFs and the WRs, but I haven't found anything reliable on the Chilean Wine Palm seeds. Has anyone had experience growing these from seeds? Some sites suggest breaking the shell off, while others don't. I have them soaking in water at the present time and I will be planting them on Friday. I am hoping to get some good advice before then. Thanks in advance,   SALOttawa 


By Jonathan Haycock

The Payneham Jubaea chilensis is a very fertile palm, producing copious amounts of pollen and subsequent fruit. 
The Jubaea chilensis at Waite Arboretum appears to be self-sterile, offering tiny quantities of poor quality pollen per inflorescence and up until today, hasn't dropped a single fruit over the last 2 years despite pushing almost year round spathes.
A while ago, I noticed a limited number of fruit forming on the Waite Jubaea. They were more elongated than the round fruit typically seen on this species.
I picked up the ripe windfall, cleaned the fruit to reveal seed that is again elongated, but also smaller than regular Jubaea.
Due to the previous sterility of the Waite Jubaea, I'm wondering if it has been open pollinated by the various Butia or Syagrus next to it? Plenty of helpful insects/birds around plus Adelaide has been exceptionally windy this summer.
I've always thought that seed morphology of a pure cocoid palm species does not change whether it has selfed or received pollen from another species. Rather differences show up in the subsequent F1 hybrid parent. 
Could it be seed morphology is an indication of possible hybridisation? Is the Jubaea actually a hybrid? Or am I reading too much into this ?

Waite Jubaea chilensis seed left, Payneham Jubaea chilensis seed right

Payneham Jubaea chilensis 

Waite Jubaea chilensis 


By sashaeffer

New to seed germination indoors as I've previously just bought potted palms. I've discovered with a couple species that potted purchased palms that don't do well indoors....and die, do much better if grown from seed.
I'm using baggie method and heat mats and trays with pretty good luck.
My question is, when is the best time to plant them up and also to remove  from any bottom heat?  I don't want to "cook" the new seedlings. 
Are heat mats only supposed to be  used to get seed to "pop"?