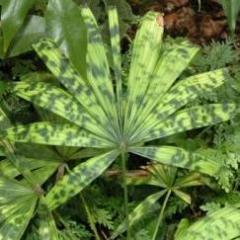 ---
Similar Content

By PalmTreeDude

My Needle Palm (Rhapidophyllum hystrix) is finally flowering! I won't get any seed off of it (if it is a female, I'm still not sure what it is yet and don't know how to tell) because I only have one and there are none close by that I know of. But it is still really cool, and is my first palm to ever flower! 



By Mandrew968

I got this bromeliad but I don't know the species. With all the seeds, I am thinking Tillandsia-would love to know what you guys think... Thanks!




By kinzyjr

Just a few photos from my visit to Fairchild over the holidays:






By kinzyjr

Just a few pictures from my trip to Vizcaya over the holidays:
Entrance to the museum/gardens:

The Dock:

Front of the House:

Side Garden:



By Moose

Lots of Rain falling on the Moose Land. Could be up to 4' before the day is through.
Spread 6 cu yards of "green mulch" from my pruned mango and avocado trees last month.
Observed at least 6 different species of mushrooms popping up. The soil and earthworms must be happy.