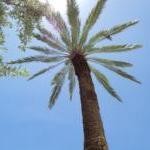 ---
Similar Content

By PalmatierMeg

I have 10 extra Serenoa repens Super Silver seedlings for sale. They are approx. two years old and I germinated them from seeds I got from Christian Faulkner. As this palm is very slow growing after taking months to germinate, you have a chance to bypass several years of waiting to grow one from seed. Silver saw palmettos germinate green and take on their silver-blue coloring as they grow. Info from Palmpedia below:
http://www.palmpedia.net/wiki/Serenoa_repens
This SE U.S. native palm is quite coldhardy: down to zone 8. Once considered a noxious weed in its native territory, it is now valued as a desirable component of the ecosystem and a decorative urban asset. 
Serenoa repens Super Silver: $10.00 each
Shipping = $10.00 for one plant. Additional plants by quote - ask me.   No shipping outside the US. No shipping to HI.
Payment via Paypal.
PM me if you are interested.
Photos



By ky_palm064

Here are some pics of my volunteers. They're under 3 older parents, on a south-facing wall of an unheated garage. Starting about 5 years ago, I've seen more each year. They were under leaf mulch, but  for the past 3 years they've been exposed.





By tank

Its been awhile since I've posted a topic but here are some palm pics from my yard in Gainesville:
Parajubaea cocoides x butia

 
Trithrinax brasiliensis
 

 
Trachycarpus principes
 

 
Jubaea x Butia
 



By donofriojim1

This next post is about more established needle palms in Cincinnati and Northern Ky. I also want to show how much microclimates in the same metropolitan area can effect growing palms. The first two pictures were shared with me by another local Cincinnati palm grower. This is the locally legendary needle palm planted in the year 2000 at Mount Saint Joseph University in Cincinnati during the freeze of January, 2019.  Since the year 2000, this palm has never received any special protection what so ever. It laughed off the vortex winters with ease. It even produced viable seed yearly. However, sadly in the spring of 2019, this beautiful palm was cut down by a landscape crew by mistake. However it is growing back slowly from the roots.  The second picture is the regrowth as of early March, 2020. No winter protection of new growth was ever given during the previous winter. I guy who shared these pictures with me online is the guy who originally planted this palm. 
Now, I had lived for a couple of years in Boone co, Ky.  Paradoxically, a good chunk of Boone county, Kentucky actually tends to be noticeably colder than most parts of greater Cincinnati. Especially in the winter time.  In the town of Union, Kentucky one can find the Boone County Arboretum. It is a fantastic place for a garden lovers to visit. They have a locally famous stand of needle palm there as well. However due to their outlying location in the park, and Boone county being a local cold spot as well, these palms sadly struggle a lot more than other specimens north of the river despite receiving protective measures  that other local specimens do not receive.  The third picture is them protected for the winter in a cage of leaves. The forth picture is one I took of them in April, 2018 freshly uncovered and noticeably damaged. These are much more damaged than unprotected ones north of the river.  






By donofriojim1

Hello all! I live in Cincinnati area and I have a great interest in hardy palms! I myself have planted needle palms and some sabal minor " McCurtain" in my own yard. I also have found some established needle palms planted in a restaurant parking lot. I spoke to the owner of the place and he said that they were planted in about 2009  and never receive winter protection. I am also aware that there is a needle palm that is growing back from the roots at Mt St Joseph University after being cut down by mistake last spring. It apparently was planted in the year 2000 and does not and has never received any special protective measures. I am also aware of some needle palms across the river in Boone county, Kentucky. I know that they are buried in leaves every year and they still appear to struggle much more than the unprotected specimens on the Ohio side of the river. It is probably a colder local microclimate. Attached are the sabal minor mc curtains, and needle palms in my yard, a sabal minor mc curtain seedling in my side yard exposed to all elements as of last December, and the established needle palms at a Cincinnati restaurant as of  late February of this year. Im curious, are there any other Cincinnati/ Northern Kentucky palm growers here?