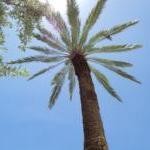 ---
Similar Content

By PalmatierMeg

I collect rare specimens of the variable Sabal minor, esp. those that are dwarfs or uber dwarfs. I got many of those from Plant Delights Nursery, which offers Sabal palms sporadically, sometimes as one-off sales. When they have one I want, I know to order quickly because it may never be offered again. Such is the case for two different Sabal minors I pounced upon nearly two years ago and haven't seen since. I have them in my garden lot where they have gone pinnate. Today I took photos of them. They are quite distinct.
Sabal minor 'Welfare', Texas aka the "Poor Scrub" palmetto
This palm occurs as a population in grasslands near the ghost town of Welfare in Kendall County, TX. Some plants will grow trunks up to 8' tall. The juvenile I have is approx. 2' tall x 2' wide. Check out the link to PDN below:
https://www.plantdelights.com/products/sabal-minor-welfare

 
Sabal minor 'High Springs', FL
This dwarf Sabal minor comes from the town of High Springs in Alachua County, FL. It is distinctive for being very short, 2' tall, and wide, 4' wide. Leaf pinnae are notably narrow. Flower stalks reach 7' tall.
See link to PDN catalog below:
https://www.plantdelights.com/products/sabal-minor-high-springs



By newtopalmsMD

I have several Musa Basjoo banana plants (along with several of the cold hardier palm tree varieties) already planted around my pool.  I am looking for some other ornamental banana plans that I could overwinter in the ground with just large leaf pile coverage in zone 7a (north of Wash DC).  I have seen more and less optimistic claims on line about several Musa varieties with M. Sikkimensis and M. Mekong Giant seeming to be the more hardy, and very conflicting claims about ensete glaucum (snow banana).  Has anyone grown bananas other than M. Basjoo in this (or colder) region with overwintering in the ground?  (I'm also looking for other large leaf tropical looking plants that can overwinter in the ground.  I am trying for the first time Colocasia, Pink China.) 
Thanks


By The Steve

I've been growing these up for a few years now, and I was wondering how much longer before I can start to spot the true lisas.  I'm thinking that I'll need to pot them up to one gallons.  Thoughts?


By PalmatierMeg

Back around 2010 I germinated seeds of this dwarf Chamaerops from an island in the Mediterranean Sea. They were generously sent to me by a palm lover in Rome. I kept and planted about half a dozen seedlings that appeared to show Vulcano traits, which show up across a range. A couple years ago I posted photos of my primo palm on the north side of my garden lot. These photos are of one of its siblings, which shows almost as well.
Chamaerops humilis 'Vulcano', Cape Coral, FL



By Manalto

I'm not at the house at the moment but my neighbor sent me this photo of my mule palm that has been in the ground about a year. I guess it had blown over in the wind. He staked it for me.
I noticed, the last time I was there and working in the yard, that it was wobbly. It's in the shade  in the early morning  but  gets full sun for the rest of the day. Are they known for having weak root systems? Any suggestions?