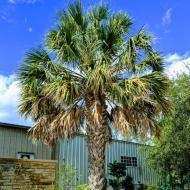 ---
Similar Content

By TomJ

This is from my Costco home weather station today.
Anyone else see temperatures like this?



By PalmTreeDude

I thought I'd start a thread about frost after seeing very thick frost this morning. How often does your climate get frost (if it even does)? Where are you located? Are you in a cold/warm microclimate or have any? Here in Virginia, near Chester, we get frost commonly during the Winter and late Fall. Tree canopy (I use Leyland Cypress for this, it works well) and close proximity to water can protect places here from a lot of the first frosts. Here was the frost this morning, the first picture is from my front yard (exposed to the West) and the second picture is from a lot with Leyland Cypress in it. Notice how the closer you get to the Leyland Cypress the less frost there is. Also keep in mind that this was a pretty heavy frost. With light frosts, it is common for places with dense canopy above to get no frost at all. 




By PalmTreeDude

So it will be going down to 25 tonight, which means all tropicals will be killed for the winter, the only are around me that may be spared is the islands in the reservoir, but even they might not be saved by the water. They have not had a single frost yet, even the areas right along the lake did not frost yet (I can tell by the completely unharmed bananas a trees along the water). My Cayanne Pepper plants will be killed by tomorrow. So I did my final harvest. 



By Tropicdoc

Potted coconut vs. 17 degrees F
 




By Xerarch

Took these Wundermap screenshots this morning around 6:45, not sure if it was the bottom of the cold spell but here it is. 
I see some quite notable cold on here, even freezing temps throughout central Florida even on barrier islands.