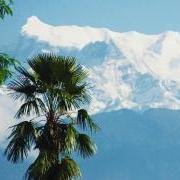 ---
Similar Content

By Dimimelbourne

I just wanted to share some excitement with all of you. I just purchased an areca vestiaria online. Arrived beautifully with a brand new spear already emerging. I believe it's a red form and I can't wait to see some stilt roots on it.
 I would love to see some of yours and would gladly hear any advice you can give me.
For the time being, I have it by a large frosted west facing window indoors as well as some overhead LED lighting. I have a lipstick palm which seems to be happy there too. 
I'm going to keep it inside for the most part as my climate is far from tropical but I plan on taking it outside whenever the weather is willing.





By SilverDragon

I have passed by a pair of potted palms many times on my campus at Cleveland State University, and I've always wondered what they are. My guess is Adonidia merrillii, but I'm not 100% sure.Any guesses?



By SilverDragon

I ordered some seeds of the Traveller's Tree from Seedman. Any tips on how to grow them? Are they similar to palms in their requirements for germination? Any help or advice is appreciated.


By Eric Thompson

Just recently split up 3 majesty's from same pot into their own pots. I was as easy as I could be on the roots..
 all new soil and parked in front of a large window. 3 days later and they are looking a darker green, the fronds are droopy and all seem to be twisting. Is this just classic shock or did i kill these things? 




By Elsie

What could be causing this streaking in the new growth of my young Kentia Palms? They're in a front of huge windows but there are large overhangs so they get very little direct light. 
They recently had the beginning of a scale problem but that seemed to be mitigated with neem oil. Now I'm worried I might lose all of them. Any help or experience with this would be greatly appreciated.