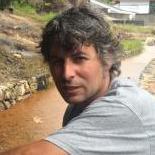 ---
Similar Content

By PalmatierMeg

I have no wish to bring up the 800 lb gorilla sitting in most of our living rooms. My father was in the FBI so I grew up with 800 lb gorillas. Suffice it to say my husband and I are old and afflicted with conditions and ailments (type A blood anyone?) that render us both high risk. So, voluntarily, we have self-quarantined at our home on one of the larger residential properties in Cape Coral (0.61 acre - don't laugh). But we are blessed to be surrounded by 100s of my beloved palms and tropical plants that provide a cooling oasis and privacy. It's so restful to work in the yard, lots to be done to take my mind off the woes of the world.
I thought I'd take some time to share photos of our little palm paradise as it looks like we won't be going anywhere for a while. I started outside the front door and continued into our 3-lot Garden Lot, which is fully planted except for our 10x16' garden shed.
Blue & Red Latans

Blue Latan

Red Latan

Sabal minor Blountstown Dwarf x2 in planter box

Northern edge of Garden Lot

Allagoptera brevicaulis

Agave ovatifolia

Views from inside the Garden Lot



More later


By PalmTreeDude

So one of my Washingtonia robusta started to go yellow and then the edges went brown and it slowly died. Then, two of my other Washingtonia have started to do the same thing a while back, but are still alive. Now, my final healthy one is starting to show the very beginning stages (slight yellowing in the oldest leaf). Then some of my Saw palmetto seedlings started to show "symptoms" and now it seems like my Archontophoenix cunninghamiana is showing it a little bit, although it fortunately doesn't seem to be progressing much. I can't tell if this is some sort of disease (I don't understand how potted palms indoors in Virginia would get a palm disease) or if they have some sort of fungus. Should I completely soak them in copper fungicide? I'm not going to lie, I am kind of freaking out a bit. Any advice would be helpful. I am not new to growing palms indoors during the winter and have been watering them each as I believe they should be watered while indoors (for example, Washingtonia get the least amount of water, to prevent rot). What could this be? Can I save these? I never had this problem before. 




By The7thLegend

If you live in North Florida or even somewhat close by, Suwannee River Palms of Jasper has a great deal on specimen Sylvester Palms - any size - $300.  I came across this deal on eBay market place.  I wasn't sure they were still around but thinking I might add one to my landscape.   Just thought I'd share.
https://www.facebook.com/marketplace/item/2124455604331556/?ref=feed_rhc
Phoenix Sylvester Palm Trees for sale in Jasper on Facebook Marketplace

Palm Tree SALE!!!! LIMITED TIME ONLY!!!!!Phoenix Sylvester Palm Trees STRAIGHT OUTTA THE PALMTREE PATCH!!!! Any size palm you bring your own trailer and we will dig it and wrap it and then load it for you $300.00 Cheapest Palms out there call Curtis at [hidden information] OR Brandi @ [hidden information] to set a appointment for a tour on the palm tree patch and pick out the palm you want BRING YOUR OWN TRAILER NO DELIVERY OR INSTALLATION IS AVAILABLE
 
 
 


By UK_Palms

Taking into account your observations when gardening, and specifically growing palms, have you noticed any genuine change in your climate, or evidence of global warming? Or have you become aware through education and through the media?
I'm just wondering what people's thoughts are on here...?


By PalmTreeDude

So I remeber hearing someone say in a video that Immokalee does not have a good climate for more tender palms, I looked around on Google Maps on Streetview and saw these coconuts. Some look fine while others look horrible. I am kind of confused about this towns climate. Does it get a freeze every few years from being so far inland? What type of stuff would be the limit of what would survive there long term?