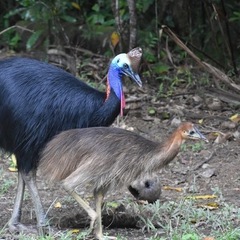 ---
Similar Content

By Zekorora

I've been looking for these two palms for a while now and can't find any. Super rare!


By xoRudy

Credit : Shamus O' Leary's Tropical Fruit trees
Phoneix, Arizona



By sandgroper

I  earned a few browny points with my beautiful daughter this morning, I took her up to the Perth hills so she could play with a koala. She loves koalas, my wife does too, they are quite nice little things. This little bloke is 10 years old, his name is William and he comes when his name is called. My daughter wants to be a volunteer at the wildlife park on weekends, I think it would be difficult keeping her away from William and his mates though!



By MaryLock

In January 2020 The Merwin Conservancy officially took on the stewardship of the house and palm garden of poet W.S. Merwin on Maui.  As we have been cataloging personal items in the house, we discovered boxes of files containing letters about the early days of seed exchanges, conservation work, and friendships revolving around palms.  Some of these letters written more than 30 years ago include correspondence between Inga Hoffman coordinating the IPS seedbank out of the Southern California Palm Society Chapter, Grant Hawley from Aitkenvale North Queensland, and Norm Patterson in Western Australia (he mentions the Western Australia Palm and Cycad Society being only 2 years old).  We are just starting to go through these now, and I hope those in the PalmTalk community might help me put more context around these pen pals.  Grant Hawley's letters include descriptions of his own gardening situation, it would be interesting to find out what happened since those letters.  William had been working on a Pritchardia project and mentions sending a few wild collected seeds to his network.    I've only scratched the surface and I assume there will be many more kindred spirits in the piles of correspondence.  The letters are an interesting snapshot of the world of serious amateur palm collecting - species lists, wish lists, and old certificates like the photo attached.
 
 
 
 
 



By Jonathan Haycock

Not a palm I've seen advertised for sale much here in South Australia, so when I came across these 5 young Jubaea chilensis on Gumtree I jumped at the opportunity.

The private seller grew them from seed and claimed they were around 5 years old. In need of a re-pot, but very healthy.

$100 AUD (£55 GBP/€61 EURO/$73 USD) for the lot!!! 

I believe some of them are hybrids (JxB F1) as does Nigel Kembrey.
What do you think?