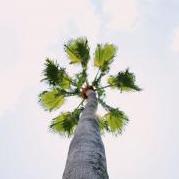 ---
Similar Content

By Will

Good evening,
I have just visited the palmhouse in Vienna and they have some really huge Sabal palmettos. Was my first time seeing them in person and I was really surprised how big they actually are. 
I am searching for Sabals similar to the size of palmetto or bigger, which are hardier though. I am in zone 7b Eastern Austria. Got some Sabal minors but I suppose they don't get leafs as big as palmetto do they? 
I have found Sabal tamaulipas which are supposed to get bigger than minor. But those are really hard to find here in europe. And other suggestions on big growing Sabals for my climate?
Thank you!
Will




By MonkeDonkezz

Hello PalmTalk!
There is going to be a short introduction first.
My name is Yahor though I prefer you call me by my username and I am from Staten Island, a borough of NYC.
I don't feel comfy telling people my age, but I am 12-16 years old.
I first got my interest in palms when visiting Jacksonville Florida last year.
I want to start growing them.
So the reason I am making this post is something that has caught my eye for a while.  According to Wikipedia, on the page about NYC's climate, the climate data graphs and classifications section show that  areas of NYC might be in zone 8a.
LaGuardia has 11 F (-12 C) as the minimum for January.
Belvedere Castle in Central Park  has 9.8 F (-12.3 C) as the minimum.
JFK has 10 F (-12) as the minimum.
Sorry if the pictures look bad
I find the emotes on the forum funny 

 



 
 


By CiprianS

I don't know what is happening with my small Sabals but they don't seem to look ok at all.  This whole thing started since October I guess when the temperatures stated to go down but there hasn't been any freezing in the Houston area ever since. I will post below some photos with them, maybe someone has any ideas. I want to treat them with H2O2 because it seems that they have some rot on them, at least this is my idea. If you have any ideas please help.
I tried to pull the spears and I could not do it at any of them.
Indeed, these are all on the side where it is shadier but they still get some sun and in between the ones that seem not to be doing so good I have some that don't have any issues at all. It is just like it is happening random. 
Sabal Palmetto, at first one of the leaves was coming out yellow but it managed to get some green under it and it pushed it out. The newest spear came green from it.


 
 
 
Sabal Riverside, it has a few spots on its leaves and the newest spear seems to have some problems.



 
 
 
Sabal Palmetto, almost  of its new leaves that have grown since I planted it are dead. The new spear seems to be green.


 
 
 
Sabal Palmetto, all of the new leaves that it sprouted since it was planted are dead. The new spear that is coming out seems to have a green base.


 
 
 
Sabal Palmetto, all of the new leaves that it sprouted since it was planted are dead.  Also, the newest spear coming out seems to be dead.


 
 
 
Sabal Riverside, again it seems to have some issues, the newest spear seems to have some rot on it, something that looks blueish greenish as you can see from the below photos.



 
 
 
Sabal Palmetto, the one that I got from our colleague @Reyes Vargas that was doing so fine, sprouting leaf after leaf and now it seems not to be doing so good anymore with its newest spear dead.



 


By GregVirginia7

Looks like that "dip in the jet stream" is coming our way...so far I see two days/nights sub-freezing with most nights into low 20's F and some upper teens. I'm off tomorrow so I think I'll do a little prep but not like past winters. As I said earlier, I want to grow cold hardy palms in normal NOVA winters without overdoing it on the protection. Anyway, the new Trachy F. will get well protected, as it should for a winter or two with an umbrella and a nice layer of burlap and frost cloth on its cage with lights on the ground around the trunk and up to the crown, just a matter of inches...but everything else is going to get protection lite. The established Trachy will get some lights up the trunk (for looks) and on the crown. Same for the Brazoria. However, the Brazoria will get an umbrella over the crown, anchored with a shepherd's hook and a blanket of lights on the ground, though a heavy rain will turn into a river around the Brazoria so I may have to improvise a bit. The Medi gets minimal as well. Sounds like a lot but compared to past winters, it's definitely a pullback.
Will send after pictures tomorrow...
New little Trachy will get babied but that's necessary:

Established Trachy and Brazoria get some lights and the Blue B gets an umbrella...


The Medi is ready...it has a blanket of lights on the ground but I may use cover if I have to...will wait for a forecast in the mid teens...this is the palm that is going to be most tested...

These guys laugh every time I do this...no protection here...


Honestly, the Needles, McCurtain and Sabal minors give real meaning to the term cold hardy...they truly are great palms for this NOVA climate.