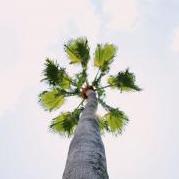 ---
Similar Content

By PalmatierMeg

For sale is the total 2019 crop from my Sabal bermudana: 60+ seeds. I grew my mother palm from seeds I received from a resident of Bermuda in 2008. This rare, very slow growing native of Bermuda is endangered on that tiny island by development. It is shorter - up to 20' tall -  and stockier than S. palmetto but just as cold hardy. It prefers sun and heat but unlike most Sabals, can prosper in areas with cooler summers, i.e., CA, PNW. 
Sabal bermudana: 60+ seeds @ $15.00 for the lot. One Lot Only
Shipping: $5.00 in padded envelope. No shipping outside the US. No shipping to HI
Total = $20.00
Payment via Paypal. PM me if you are interested
Photos

Mother palm



By PalmTreeDude

The Sabal minor population in and around Congaree National Park, which is just Southeast of Columbia, South Carolina, look really cool. They have basically 360° fronds that stick kind of upright. Look at this observation of them that I saw on iNaturalist in their habitat. I would recommend looking around the observation map as well, you can literally see the different ecotypes around the Southeast. 
 https://www.inaturalist.org/observations/10726721


By Hillizard

An Unflinching Look, a documentary photo series by Benjamin Dimmitt, is set in Florida and focuses its gaze on rising sea levels. Dimmitt has been photographing in the Chassahowitzka National Wildlife Refuge north of Tampa since 2004, after an initial visit more than 30 years ago. https://www.thisiscolossal.com/2019/10/an-unflinching-look/
 
 



By limoncik

Tell me how hardy Sabal Blackburn? There is very little information about him. Which one of you is growing?
 


By PalmTreeDude

My Needle Palm went from smaller fronds to big fronds over the summer, look at the size of them, and they'll get much bigger! I had to hold the camera way up to get the whole frond in the picture!