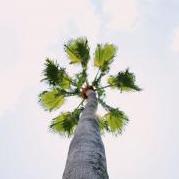 ---
Similar Content

By PalmatierMeg

Several days ago I received a request for an update on our world famous Sabal Row. But first, some background. I joined PalmTalk and IPS in Jan. 2008 and soon decided I wanted to germinate palm seeds. I chose (and recommend) the Sabal genus for beginning palm growers. Sabal palmetto is FL's State Tree and ubiquitous and I managed to beg, buy and barter Sabals domingensis and maritima. From early 2008 into 2009 I germinated a slew of seedlings. A quick tangent: In 2003 during the housing bubble, some HGTV rejects decided to build a spec home four lots east of our little cottage. Then that spec home bounced through a series of flippers, sustained roof damage in Hurricane Charley and thereafter sat empty and abandoned year after year until well into the housing bust. I looked across the vacant lot next door at that never-lived-in stack of cinder blocks and decided to plant my side of the vacant lot with Sabal seedlings to block views at and from that abandoned edifice. What you see in the following photos grew up since 2009 (the house sold in 2010; the neighbors are nice people). None of these palms are technically mine but I hope if anyone ever builds there, they appreciate privacy as much as we.
Note: Sabals domingensis and maritima are really large palms. Sabal palmetto is the smallest trunking Sabal and one of the slowest growing. Sabal causiarum is a total behemoth. I added a seedling one to the Row after the others and it dwarfs them all.
Sabal Row, March 2020, Cape Coral, FL

Sabal Trunks x3: Palm on left is S. palmetto. Other two may be domingensis and maritima (ID tags disappeared long ago)

Sabal maritima (left), Sabal palmetto (right) - Same age but look at size differential.

Opposite view: Sabal palmetto (right) and Sabal maritima (left)

Sabal palmetto Trunk

Sabal maritima trunk



By PalmatierMeg

I germinated the little stemless Sabal in the photos below 11+ years ago from seeds sent to me as "Sabal etonia." My recollection is that these seeds came from a generous PTer in Europe, which complicates matters more than a bit but I was eager to find seeds of S. etonia to test my germination skills. This is the only remaining palm from that lot of seedlings. As I have never met a Sabal etonia in the flesh, I have assumed for years mine is a true etonia. But now I wonder if it might not be a Sabal minor and a "uber dwarf" minor at that. For a Sabal that may be nearly 12 years old, it has remained remarkably tiny: 24" tall by 30" wide. It flowers yearly and produces fewer than 100 fairly small seeds. Its leaves are green but show occasional blue hints and are almost flat. Sabal minor has flat leaves while Sabal etonia leaves are quite costapalmate.
Please study the photos and help me decide which stemless Sabal this guy is.



By PalmatierMeg

As I posted earlier this week, I lost my large, mature Sabal palmetto Lisa to lingering damage from Hurricane Irma. But I still have two juvenile Sabal Lisas that I grew from seeds collected from a Ft. Myers city park. I have high hopes they will someday flower and set seeds like my first one. Here they are today.
Sabal Lisa the larger

Sabal Lisa the smaller



By PalmatierMeg

Please join me in mourning the passing of my oldest and largest Sabal palmetto Lisa, which has provided many seeds and seedlings over the past 5 years. I received it as a 2-leaf seedling in May 2008 from a generous local PTer. It started flowering and setting seeds around 2014. I believe but can't prove that it suffered some kind of damage from Hurricane Irma in 2017. It aborted its seeds in 2018 and never flowered at all in 2019. By then it stopped growing and fronds died, starting with the newest. Today we gave up hope for it and cut it down. First photo is of what's left of its trunk. Second photo was taken 11 months ago when it still looked its best. I have two juvenile Sabal Lisas left on my garden lot.
Sabal Lisa RIP, Cape Coral, FL  3/16/20

Sabal Lisa, Cape Coral, FL 4/30/19



By tim_brissy_13

Hi all,
I'm hoping someone can help with the ID of this Trachycarpus. It was amongst a group of T fortunei at a non palm specialist nursery but clearly different. Compared to the others, it is much more squat and thick in stature, has thick leathery leaflets, wider leaflets and a glaceous white/blue underside of leaflets which is from a wax that can be wiped off. Petioles are rough but not clearly armed. The leaflets also seem to be arranged split in pairs which matches T geminisectus, so I bought it but surely to get a geminisectus from a group of fortunei is too good to be true. Any ideas? I haven't seen young T latisectus but from what I've read that could also fit? Or is it just an extreme variation of fortunei?