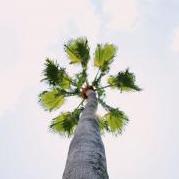 ---
Similar Content

By LasPalmerasDeMaryland

Well with frosts and freezes finally in the forecast, it's time to mulch and wrap these palms up. But before I do, a little update on their growth this year. 


By Manalto

I'm not at the house at the moment but my neighbor sent me this photo of my mule palm that has been in the ground about a year. I guess it had blown over in the wind. He staked it for me.
I noticed, the last time I was there and working in the yard, that it was wobbly. It's in the shade  in the early morning  but  gets full sun for the rest of the day. Are they known for having weak root systems? Any suggestions?



By Dimovi

I planted a couple of hundred Sabal Mexicanas about 2 years ago. All look like the one on the right, the one on the left is the exception. I've never seen Sabal that small grow above the soil.
Has anyone seen this before?




By kbob11

Hi everyone,
  I'm sorry for the lack of pictures.  I hope to put a close up on here later.  I planted a 15 gal T. fortunei this spring and it has been doing well.  The past 2 weeks the days have been in the 50-60s and the nights 38-50degrees.  I have been noticing that the frond tips are starting to turn yellow.  Should this be a concern?  The new spears are still emerging and look great.  We have had a couple of light frosts but I was going to hold off on my winter protection until the nights are consistently below freezing.   Thanks!