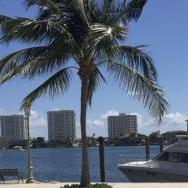 ---
Similar Content

By kbob11

Hello everyone,
   I just put up my winter protection yesterday and I had a couple of questions.  The biggest one being, will my palms be okay with no sunlight for the next 4 months?  I have T. fortunei (right) wrapped with frost cloth with a heat lamp attached to a thermo-cube.  The Needle (left) is tied together surrounded by straw / leaves.  It has a frost cloth roof with plastic corrugated roofing over it.  Can I just leave it for 4 months? No watering / sunlight?  There are small ventilation holes in the back of each box and doors that I can open if it gets too warm.  Thanks for the help!



By Manalto

I'm not at the house at the moment but my neighbor sent me this photo of my mule palm that has been in the ground about a year. I guess it had blown over in the wind. He staked it for me.
I noticed, the last time I was there and working in the yard, that it was wobbly. It's in the shade  in the early morning  but  gets full sun for the rest of the day. Are they known for having weak root systems? Any suggestions?



By PalmatierMeg

For sale is the total 2019 crop from my Sabal bermudana: 60+ seeds. I grew my mother palm from seeds I received from a resident of Bermuda in 2008. This rare, very slow growing native of Bermuda is endangered on that tiny island by development. It is shorter - up to 20' tall -  and stockier than S. palmetto but just as cold hardy. It prefers sun and heat but unlike most Sabals, can prosper in areas with cooler summers, i.e., CA, PNW. 
Sabal bermudana: 60+ seeds @ $15.00 for the lot. One Lot Only
Shipping: $5.00 in padded envelope. No shipping outside the US. No shipping to HI
Total = $20.00
Payment via Paypal. PM me if you are interested
Photos

Mother palm



By PalmTreeDude

My Needle Palm went from smaller fronds to big fronds over the summer, look at the size of them, and they'll get much bigger! I had to hold the camera way up to get the whole frond in the picture!