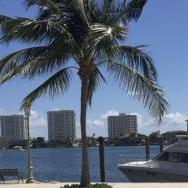 ---
Similar Content

By sevapalms

5 years ago, before I knew much about palms, I got a mule palm as a 2 leaf seedling. I read that they were hardy to zone 8a, and given I am in that zone, I thought it would be a good choice. I did not realize that many mules do not survive zone 8a winter temperatures, and definitely not record lows in my area.
I decided to plant it anyway last week, and protect it when temperatures reach 18-19 degrees, which happens a couple of times in a typical winter. The soil in my area is extremely poorly draining clay, so I decided to plant it in a mound. About 1/4 of the rootball is below the normal soil level. The reason it is hurricane cut is because of a fungal issue.
Any tips would be appreciated!


By PalmTreeDude

So we had a pretty windy Winter here, the Needle Palm is exposed to it and there were many days where it literally looked like it was going to rip out of the ground (of course it wouldn't, but it was blowing around A LOT). Here it is looking good! It's ready for the heat. 



By swolf

Here's a young Bismarckia in zone 9a that came from especially cold-hardy parents.  Couldn't resist trying to grow a few of these marginal beauties..  In the background is a medium size Jubaea x Butia F1.  They all vary a little.  
Anyone interested in partnering/purchasing on this 4.5 acre (buildable) palm nursery can PM me.  Larger JxB F1s have begun flowering.



By RJ

Picked up these 2 15g sabals in need of repotting over the weekend. Keeping the top of saxophone heal above the ground surface is what's important correct? 
 
Also so what happens to that heal with mature palms? I've never noticed it on mature trees. 




By GeorgiaPalms

I thought it may be cool to post photos of the garden as it appears this winter. Please posts pics of your own garden as well. I am in North Georgia, a cold zone 8a.