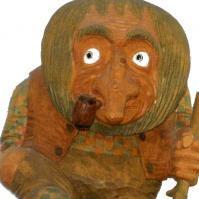 ---
Similar Content

By Pal Meir

My 10 Lytocaryum weddellianum grown up from seed in 2013 were more and more getting too tall  for my desktop, except one (N°1306c) which I had kept quite small by very brutal  root pruning. (But even the other pruned palm N°1306a is growing too tall …)
Now I am intending to keep my 3 one year young L batavum as small bonsai palms. First, I will keep them as long as possible in their tiny Ø8xH9cm clay pots. Second, I will expose them also to direct sunlight, but watching that they don't get burned. 
@Jamesasb , you have mentioned (and posted a pic) one year ago that you are making one of your L weddellianum to a bonsai. Are there already visible and positive results? 
Here the desktop-sized N°1306c:

And here the 3 new bonsai candidates:



By Pal Meir

This is the story of the weakest of ten Lytocaryum weddellianum seedlings.
In 2013 all other seeds germinated between April 01 and 26, only one small seed germinated much later on May 8 after 49 days (cf. pic #1).  And this seedling N°1308 would not grow like its siblings and stayed small though it was the only single seedling which was planted since the beginning in a large Ø12xH12 cm clay pot (cf. pic #2).  (The other five singles N°1301 to N°1305 had only tiny Ø8xH9cm clay pots.) So I checked the roots and was very worried (pic #3).  The soil mix could not be the the reason because the other Lyto weddells were planted in the same mix.  So I guessed it might be that the draining hole of the pot was closed by something too tight. I placed another piece of a clay pot over the hole and repotted the palm with the same soil into the same pot.  And it became looking happier (pic #4)  and is a happy little bonsai palm until now, pushing its 18th leaf (pic #5), with very strong and healthy roots (pic #6). 
So we can see that even an ideal soil mix may cause problems when the pot is too large or the drainage not optimal.
#1

#2

#3

#4

#5

#6



By User00

anyone from tropical climate  growing lytocaryum weddellianum  in outdoor. i heard they don't like much water 


By Pal Meir

Please post pics of your potted Syagrus weddelliana 1916  (= Microcoelum weddellianum 1956 = Lytocaryum weddellianum 1944 = Cocos weddelliana 1871)! — At present I have only three year young S weddelliana (of course all grown up from seed), because my (hundreds upon hundreds) older ones didn't like my several world trips and other journeys …  — But at first I'll post the oldest pic of a Cocos weddelliana WENDL. from 1871, and then a photo of my "working" place as it looks like today:




By benko

Hello all, I have a Lytocaryum weddellianum growing on my kitchen window sill which is south facing. It has been doing really well and continues to grow through the winter months! I have noticed it's roots are starting to pop out the bottom of the pot, I was wondering if any of you think I should re-pot it in a few months or just leave it in its current pot for longer? I am thinking of getting a Lechuza pot for it with Lechuza pon. I have only been watering when the soil is close to drying out, allowing the water to drain. Also does anyone know how it copes with root disturbance? If you could let me know your thoughts it would be greatly appreciated.