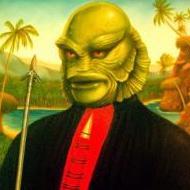 ---
Similar Content

By Funkthulhu

I have a couple juvenile palms in a large-ish (3 or 4 gallon? bottom watering reservoir) pot in my apartment.  North facing window, but it's a full patio door.  These guys have rarely seen full sun and have been slowly chugging away for about 7 years (since seeds were collected in 2012).  Now, the largest of the 3 in this pot has started thickening around the bottom (still narrower than my wrist) and its top-most frond almost touched my 8 foot ceiling before arcing over to hang a good 6-7 feet at its highest.  No changes to heat, light, water, or fertilizer in the last 3 years.
This winter it seems that the fronds are "fading".  Or that they're edging into a lighter green, to an almost grayish green, but still not on the edge of yellow.  I'm concerned because other than the color of the fronds, the plant looks really healthy and, as said above, the main trunk is starting to bulk up a bit.  Should I be worried? 
For reference, I believe this to be a Veitchia arecina, based on visual inspection of the mother tree, fruits collected and sprouted, and the look of the plant now.


By Funkthulhu

Lots of rain last week, saw there was a potential for frost this week, so I spent Sunday afternoon bringing them in.  Washed pots and saucers, drained them all from being waterlogged all week, and topped up on soil for a couple.  Every year I tell myself there is no more room, and every year I end up with a couple more pots... 
Library (only west-facing window)
 
Bedroom (north facing) 

Living room (north facing) 

 
Was quite blustery last night, had some brief sleet and more rain, so I guess I made the right choice.  Just looked at the weather again and we have a full on Freeze Warning tonight!  (Guess I better go over to my friend's house and dig up my Musa basjoo while I still can...)


By Funkthulhu

Just wanted to post some pictures of my Cham. cat. because it has never bloomed before and this is the largest palm I've ever had do so. (so far)  One popped last week, the other was open when I came in to work on Monday.
Is there a way I can better promote pollination?  I've kinda "simulated wind" with enough shaking to make them both dust each other up.  Any other suggestions?





By Funkthulhu

Many of us likely have Pineapples, some of us have Avocados, and some of us have citrus trees or other weirdness.  
Do you have any particular favorites grown from your food?  Or am I the only one who will save pits and seeds from my lunch?  
Have any success stories?  HIlarious failures?
Currently I have 6 Pineapples, an Avocado, a Cherimoya, Pomelo, Blood Orange, Meyers Lemon, and all of these grown from the grocery store in pots in Nebraska.  As of this weekend I can also add Jackfruit to that list!  How long do you think I can keep that alive?  This summer I'm going to try again for a Papaya; the last one lasted 18 months and got 4 feet tall.  I'm also going to see if I can sprout dragon fruit, mango, and whatever wonders are hiding in my local asian market.


By Funkthulhu

So, I have put everything out on the balcony on and off (freeze warnings) for almost the last month.  But, we have had our first back to back 80F degree days (90 degrees actually) this weekend. 
Of course, on one of the days earlier this week I was away from home and some of my previously indoor-only palms got full Nebraska sun for about 14 hours.  Everybody had plenty of water, but all of the newest leaves went silver in an afternoon.  Now they're not just down and brown, they're crispy, whispy and light tan at this point.
But the like the Phoenix rising from the ashes...  I have a LOT of new growth!  This happens in some way every year, but it seems the burning off of the newest fronds kicks new spear-push into overdrive.  And they're all deep dark green monsters!  (though, to be pushing this rapidly, maybe it's not the burn but the first exposure outside a couple weeks ago?)
What's your experience with the first big sun of the spring?