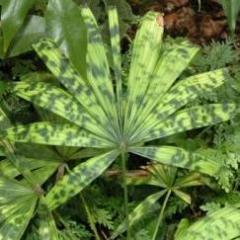 ---
Similar Content

By Palmarum

Spring Garden Tour - Croton Meeting & Auction - S. Florida
Link to Topic: https://www.palmtalk.org/forum/index.php?/topic/59599-spring-garden-tour-croton-meeting-auction-s-florida-april-6th-2019/
Ryan


By Hammer

Hey all,
Any help in identifying these beauties would be greatly appreciated. 
Maybe the last is same as the first?  Just less color.
Thanks!





By Tracy

I am always out taking photos in my garden, so I thought I might share a tour of what I have begun in my little patch of earth in a coastal desert climate here in Southern California.  My garden has been in progress for about 6 years.  I tore out almost everything in 2010, and started in some small areas.  I did a remodel in 2014 which opened up some spaces for me to start planting.  So I have a few palms which are trunking dating back to 2010 plantings, and many more in infant stage, hence the "juvenile" status.  I have intermixed many cycads, aloes and succulents in a nod to the limited amount of rainfall here.  The lot is just over 1/4 acre, requiring care in not over planting to aloe the sun loving plants to get what they need as I create some shaded areas.
Dypsis Pembana and Aloe Hercules; Dypsis decaryi; Pseudophoenix sargentii ssp saonae var navassana; front planter with aloes and cycads; Encephalartos longifolius with male cones

 
 
 
 
 
 
 
 
 
 
 
 
 
 
 
 
 
 
 
 
 
 
 
 
 
 
 
 
 
 
 
 
 
 
 
 
 
 
 
 
 
 
 
 
 
 
 
 
 
 
 
 
 
 
 
 
 
 
 
I am always photo documenting my gardens progress, so I thought I would share it in it's juvenile stage.  I tore out almost everything in late 2010 when I bought the home, and started with a few small areas.  I had to move some plants in 2014 for a house addition and remodel, which meant going back to ground zero in many areas of the small yard.  So I have a few palms which have trunks from the original planting, and many more much smaller plantings in the last couple of years.  My approach was a mix of drought tolerant plants (many cycads, aloes and succulents) in with my palms, acknowledging the coastal desert I live in.  So here goes starting with a couple of shots from the front approach to the yard.
Shots in order:  Dypsis pemnbana with Aloe Hercules, Encephalartos; Dypsis decaryi; Pseudophoenix sargentii var navassana; front planter; Encephalartos longifolius coning
 


By Zeeth

Hi everyone. It's the end of the year, so I'm visiting my garden at my parents' house in Palmetto. I haven't posted any garden tours of the new garden yet, so I thought I'd start now.

 Everything has been in the ground for about a year, so everything is still pretty small. The garden should end up pretty nice after a few years.
(I only see the garden for a short time once every few months, so it hasn't been weeded since August.)
Front of the house:


 
Cyphophoenix nucele. It hasn't looked very good since I planted it, so I'm hoping it colors up once it's been planted for a few years

Chambeyronia macrocarpa

B. alfredii

 
Pritchardia beccariana being shaded a little too much. I usually clean out the beach sunflowers when I visit, but I haven't gotten to it yet this visit. The plant to the left is a lobster claw heliconia. 

Pritchardia schattaueri.