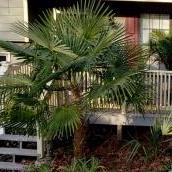 ---
Similar Content

By PalmTreeDude

So I came home today to literally every single community pot I had on my deck ripped up and broken seeds everywhere... It was definitely a squirrel because no bird here could do that much damage and I saw a squirrel on my deck two days in a row before this happened. Any way to protect community pots from squirrels? 


By Tracy S

Mounts Botanical Gardens is hosting the spring event Plant-A-Palooza on April 27th from 9 am to 4pm and April 2th from 9 am to 3pm.  There will be over 80 vendors throughout the garden. Rare and exotic plants, trees shrubs will be available as will as garden themed art items.
Event admission is $10 for non members or free for members. 
This is always a great event with lots of cool plants. 


By swolf

Here's a young Bismarckia in zone 9a that came from especially cold-hardy parents.  Couldn't resist trying to grow a few of these marginal beauties..  In the background is a medium size Jubaea x Butia F1.  They all vary a little.  
Anyone interested in partnering/purchasing on this 4.5 acre (buildable) palm nursery can PM me.  Larger JxB F1s have begun flowering.



By Tracy S

The palm beach palm and cycad society is having a one day sale at Mounts Botanical Gardens on April 13th. Lots of rare palms and beautiful cycad. Great vendors. Make plans to attend.Jason Dewes will be be present for book signings.
Saturday April 13th 9am to 4 pm.
 


By RJ

Picked up these 2 15g sabals in need of repotting over the weekend. Keeping the top of saxophone heal above the ground surface is what's important correct? 
 
Also so what happens to that heal with mature palms? I've never noticed it on mature trees.