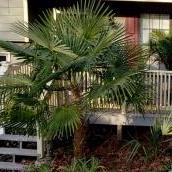 ---
Similar Content

By GeorgiaPalms

Hello all,
While browsing the web I happened across an interesting website:
http://home.windstream.net/hbrahea333/
The page features many cold hardy palms being grown in North GA. The winter page states the palms were covered when the palms were younger but once larger receive no winter protection.
Does anyone know who has grown these palms or have any more information on the palms and how they are nowadays?
 
Thanks!


By PalmatierMeg

A few months ago I posted a topic about my bodacious Sabal minor Emerald Isle Giant I originally purchased from well-regarded Plant Delights Nursery in NC, so I know it is the real thing. See link below to view that topic:
http://www.palmtalk.org/forum/index.php?/topic/58162-sabal-minor-emerald-isle-giant-wseeds-any-interest/
 
At the time I posted that topic the palm was loaded with green seeds and I asked if anyone would be interested in them later. I got quite a few responses so I let the seeds ripen and now have quite a few harvested and ready for new homes.
Normally, I sell seeds only within the continental US but I had responses from several European PTers so I will make an exception. But - if you live in Europe (or Australia) be aware that US postage for even a small 1 oz. package of seeds is astronomical, more than the cost of the seeds themselves. Also understand that I must fill out a US Customs form online with the US Gov't declaring the contents of any pkg and I cannot/will not lie. Finally, know the customs of your own country: some countries are easygoing about palm seeds from FL, others will seize seeds, destroy them, even hold them for ransom. If your customs seizes your seeds, I can't replace them or refund your money. 
All that said, please see summary below:
Sabal minor Emerald Isle Giant Seeds: 50 for $10.00
Sabal minor Emerald Isle Giant Seeds: 100 for $15.00
Shipping in padded envelope: $4.00 in continental US (Sabal seeds illegal in HI)
International shipping in padded envelope: $15.00 for up to 100 seeds with US Customs declaration
Please PM me if you are interested. Thanks and regards
See photos below of seeds and mother palm.


 


By UK_Palms

Okay, so I have been a palm enthusiast and exotic gardener for about 4 years now. Most of my palms are still quite young/small, as I am only 26 years old, therefore it's not like I have been growing palms for 20 years or anything. I have only been doing it for a few years. 
At 51N, in the southeast of England, the climate can be a bit of a challenge for me. Summers are generally pretty warm here, but winters can get cold as I am inland, away from the coast. Growing my favourite palm types, such as Phoenix & Washingtonia, can be a bit of a challenge here. Fortunately this winter has been pretty mild for us. Last night the low was 10C (50F) and today we reached a high of 55F (13C). Considering we are in the middle of winter, at lat 51N, that is pretty good weather. We haven't actually had a frost yet, in 2019. But on average, I can generally expect a frost on 1 in 8 winter nights, and I average around 30 frosts a year in total.
The reason for a lot of my palms being containerised is that I am planning to move house in the not too distant future, and I want to be able to take most of them with me. I don't want to go to the effort of planting them in the ground, then having to dig them back up again. Or having to leave them behind altogether. Hence all the pots. I'm sure people will understand. 
All the photos below were taken on 13/01/2019...
Sabal Palmetto

Trachycarpus Princeps Hybrid

Phoenix Theophrasti


Trachycarpus Fortunei

Trachycarpus Wagnerianus

Cordyline 'Starburst'

Cordyline 'Pink Passion'

Left Border

Right border

Another Fortunei - some don't handle the wind well at all, and have less robust fronds...

Trachycarpus Nova

Trachycarpus Takaggi & Chamaerops Vulcano

Chamaerops Humilis



Washingtonia Robusta

Cordyline 'Red Star'

Cordyline Australis, Butia Eriospatha & Jubaea Chilensis


Jubaea Chilensis

Butia Odorata

Phoenix Canariensis - grown from seed and very hardy. It doesn't show any damage at -5C and has survived -8C in a pot, with minimal frond burn. 

Washingtonia Filibusta & Filifera seedlings (6-9 months old)

Washingtonia Robusta seedlings (2 months old)

Assorted Cacti planter - this stays outdoors all winter, but is protected from rain and excess moisture by overhead shelter, as they MUST be kept dry in winter. 

Opuntia Microdaysis (bunny ears cactus) - also remains outdoors year round and can take -5C no problem. 

Citrus Calamondin - I bring my citrus indoors if an overnight frost is forecast, to keep it actively growing and fruiting. It hasn't come indoors yet in 2019, and is now flowering again due to the mild, spring like temperatures.

Serrano Pepper - I also bring the peppers indoors on nights that frost is forecast, to keep them producing. This one has actually taken a few light frosts, to no ill effect. 

Lovely sunset tonight...



By Hferrell87

Hello all,
I have been using promix hp and adding more perlite as my main potting mix. A couple problems I am running into are that when dry, its so light weight that a small gust of wind knocks them over and if not watered enough, the soil locks up and doesn't allow good water saturation throughout all the roots.
I've heard that adding silica sand into the mix can help with both problems I am dealing with...
Does anyone use silica sand in their mix? If so, any suggestions on where to bulk purchase?
Any other ideas?
Thanks so much!!


By Xerarch

It was 57 degrees here in Northern Ohio today, January 8th. In fact we've only really had one cold streak so far this winter, it got down to about 18 degrees in December for the lowest so far. That means if I had planted a bunch of Sabal Palmetto in the summer they would still be doing great. I've been reading since mid December numerous articles and here on PT about a supposed polar vortex coming this year but it keeps getting pushed off and pushed off. I don't even see anything that critical as far out as the forecast goes. I don't believe for a second that we've already seen the worst of winter this year, but it's got to come sometime.