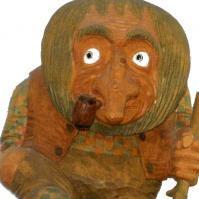 ---
Similar Content

By limoncik

Interesting trachycarpus. Is this some form or ordinary T. fortunei? Photo taken in Yalta, Crimea.



By SilverDragon

Hello all,
I found a gorgeous little baby at a specialty greenhouse near me. Should I transplant since her little roots are poking through?




By kinzyjr

The 2019 Holiday meet-up started at Heathcote Botanical Gardens in Ft. Pierce, Florida.  The gardens are roughly 5 acres and have a densely planted palm and cycad walk as well as a reflection garden full of Bonsai plants.  Our tour guide for the day was none other than @Dave-Vero.  Currently, the gardens are set up with Christmas lights and a train set under a tree as part of their Garden of Lights event.  For more information on the gardens, please visit: https://www.heathcotebotanicalgardens.org/
On with the show:
Next 3 photos: The parking lot has pretty standard views for coastal central Florida; with Livistona and Roystonea in fruit, and some yuccas to stop you from parking in the mulch.



Next 4 photos: The entrance has some more old favorites.  From there you can see some of the canopy palms in the gardens.




Once inside, a Satakentia liukiuensis all decked out with lights.

A look down the path shows that all of the palms are under canopy for protection.  A Dypsis decaryi is present on the right fork.

There are bromeliads and other plants mixed in with the palms as you would expect.  What's that on the left?

Next 2 photos: If you guessed Howea forsteriana, you are correct.  This palm seemed to attract most of the attention at the start of the tour.  There is a close-up in the second photo.


The famed 3-headed Sabal makes an appearance in an open spot off the main path.



By LasPalmerasDeMaryland

Well with frosts and freezes finally in the forecast, it's time to mulch and wrap these palms up. But before I do, a little update on their growth this year. 


By kbob11

Hi everyone,
  I'm sorry for the lack of pictures.  I hope to put a close up on here later.  I planted a 15 gal T. fortunei this spring and it has been doing well.  The past 2 weeks the days have been in the 50-60s and the nights 38-50degrees.  I have been noticing that the frond tips are starting to turn yellow.  Should this be a concern?  The new spears are still emerging and look great.  We have had a couple of light frosts but I was going to hold off on my winter protection until the nights are consistently below freezing.   Thanks!