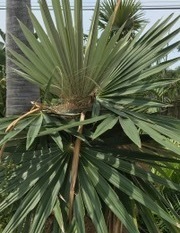 Buccaneer Palm Seeds
By NatureGirl, in For Sale

---
Similar Content

By PalmatierMeg

My mature Pseudophoenix sargentii has two infructescenses full of ripening seeds. P. sargentii, aka buccaneer palm and cherry palm, is native to the FL Keys through Cuba, Belize and Mexico. In the wild it grows on sandy, limestone soil near the sea but is adaptable to a wide range of well-draining soils and can survive brief inundations of seawater. Trunks reach 25' tall with age, are gray/green with prominent leaf scars and waxy bluish crownshaft. It has a crown of arching blue/green leave on stout petioles. It is slow growing, although my mother palm was planted on my garden lot as a juvenile around 2012 and has been trunking the past several years so it is no slouch in the growth department. It is drought tolerant but looks and grows better with regular moisture. It wants full sun and heat and won't grow well in shade. It is hardy to zones 10/11. This palm is instantly recognizable and highly desirable.
Ripe, fresh seeds are available as follows:
Pseudophoenix sargentii: 25 seeds @ $10.00 per lot            50 seeds @ $15.00 per lot
Shipping for up to 50 seeds = $5.00 in padded envelope           No shipping overseas. No shipping to HI
If you want larger quantities, please PM me to establish price and shipping cost.
Payment via Paypal
PM me if you are interested.
Photos below

 
 


By NatureGirl

I have one infructescence of Buccaneer Palm seeds this year that squirrels didn't eat. Maybe 500? But haven't counted. $10/100 plus $4 US Shipping. Sent uncleaned. 
All (100%) Proceeds go to Charity. 
Beachpalms@cfl.rr.com or PM
Thanks.


By Justin P

About 10 years ago I planted quite a few 3 gallon palms in my back yard. I recently moved two of them - both Thrinax radiatas. I discussed that move in this post.
 
 
I'm now considering moving two more palms (and a tree) and was looking for some feedback from the Palm Talk community.
 
The first palm I am considering moving is an Allagoptera arenaria. I really like this palm and have enjoyed watching it grow over the years. Unfortunately, I did not properly anticipate its growth habit. It has developed four trunks which are at a 45 degree angle to my screen patio. Here is a close up of the trunks:
 

 
This isn't a very good photo because it was taken early morning, but here is the view of the palm from my screen patio (looking west):

 
I would like to move the Allagoptera arenaria to the south side of my yard for three reasons:
The palm will provide a nice focal point in the new position, as well as contrast to the Copernicia macroglossa I can properly align the four trunks of the palm along the fence which borders the south end of my yard I can move my Pseudophoenix sargentii to the spot where the Allagoptera arenaria was previously located, which will allow me to more easily plant a uniform shrub under the palms along the west end of my screen patio  
Here is the approximate spot I would like to move the Allagoptera arenaria from two perspectives. The first perspective is looking south from my screen patio:

 
Here is the second perspective, looking west from the south end of my yard:

 
I apologize for the rough mock-ups which were prepared using Microsoft Paint.
 
My questions:
Do you have any tips for moving an Allagoptera arenaria? Will the palm do well in the new position?

By PalmatierMeg

While taking photos in my garden, I noticed my largest Pseudophoenix sargentii is flowering for the first time and I'm stoked about that. I planted it, a smaller companion and 3 P. vinifera in a 16' square box in 2011 after I bought the 3-lot site.
Pseudophoenix sargentii in flower, Cape Coral, FL



By Yunder Wækraus

We finally moved into our home in Indialantic, Florida. The front yard had almost no real landscaping upon our taking ownership of the house. The yard was originally all crushed rock, and the previous owner removed only part of that and piled the rest into three UGLY islands of rock. The weed-blocking tarp that had been lain beneath the rock was therefore not removed, and the fresh sod put down by the old owners atop the partial rock has not been able to root. It all looked terrible. Thanks to kind advice and even kinder direct help from folks on this forum, I have acquired some palms and have begun to landscape the front. Someone suggested I post pictures of the work, so I'll start with photos of the front yard as it looked upon our purchase of the home, photos of its current state a week in, and a rough sketch of my plans for the front yard (not to scale and subject to change).

My goal is to have every native species of Florida palm, the coontie, and the coconut in the front yard. I paid for two large specimens, a Roystonea regia and a nice clump of Acoelorrhaphe wrightii, which were delivered and installed by a nursery in Malabar (which was recommended to me by a forum member). And I purchased two small Pseudophoenix sargentii (not in the ground yet) and a beautiful Coccothrinax argentata from another forum member in the local area. I hope to have the whole front fully landscaped by the end of the summer.