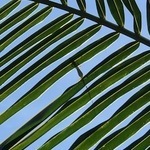 ---
Similar Content

By Estlander

Anyone know what cross this might be? It's obviously Phoenix of some kind. What throws me off is the thickness of the trunks. It's a suckering one so I'm thinking Phoenix Reclinata, but leaning heavily towards Canariensis. Normally Phoenix Reclinata crosses have thinner trunks. It's in Destin (coastal FL panhandle). 



By Kris

Dear Friends,
This give me immense pleasure in welcoming you all to another palm planting work at Kris garden.This planting is so special for me due to more than one reason..I wish to give you an brief introduction as from where this phoenix palm came to me.This was among few phoenix palms that were sent to me as palm saplings by our forum member by name M@x,who lives in Rome,Italy.This palm was growing in our garden for few years now and everytime when i wanted to plant it on the ground i could not do due to some personal work or the other.
Only now i was able to plant this baby in ground with the help of our forum friend Mr. Bo-Goran. And what more can a palm enthusiast ask for. Having 3 IPS members in our garden was moment worth to be cherished for a lifetime by me.My sincere thanks to Mr. Bo-Goran,Kim and Mr.Haresh for visiting our garden.And special thanks to Mr.Bo-Goran for planting this palm on our request.
A brief description of this Hybrid Phoenix Reclinata Palm :  Phoenix Reclinata x Dactylifera x Roebelenii x Rupicola.
For those who want to see some mature specimens of Phoenix Reclinata Palms and their details kindly visit the following links :
http://www.palmpedia.net/wiki/Phoenix_reclinata
https://en.wikipedia.org/wiki/Phoenix_reclinata
And stills and video of this work is posted in the following post.Hope you all like it.
Thanks and Love,
Kris.


By Sandy Loam

I recall a recent PalmTalk thread in which someone was seeking a cold-hardy substitute for a cocos nucifera.  One response provided by a PalmTalker was "phoenix reclinata".  
 
In my opinion, phoenix reclinata does not get a "coconutty" look until it is very mature and spreads its trunks out widely.  Below are some examples in photos.
On this thread, please join me in by posting photos showing how a phoenix reclinata can have that much-sought-after coconut look, at least somewhat.  To my taste, the nicest ones are those with tall and arching trunks, often pruned to have only a few spaced-out trunks remaining.   
 
Here are some examples from a Tampa Bay (Florida) garden that I visited recently.   (click to enlarge photos)  . 


By Southern

Hi, I'm looking for Phoenix reclinata seedlings or plants in Tasmania.

Thanks Juahn


By Brahea Axel

I started to clean up a mongrel blue phoenix reclinata. it's different from other reclinata species in that the fronds actually are glaucus blue, so I suspect it's a reclinata x dactylifera or reclinata x sylvestris. I was originally going to remove it entirely, but I decided to to see if cutting out some of the suckers and giving it a good trim would make it look good. And the answer is yes, it's simply amazing how a giant formless bush suddenly turned into a real nice graceful clump of palms.

It was hard to cut off actual growing crowns of fronds, but necessary. And after doing half of it, I realized it generated a massive amount of waste that included a lot of really good quality fronds that are in high demand on Palm Sunday, which is this year falls on April 13. Should I wait until Palm Sunday to do the rest? Do any of you wait until Palm Sunday to do major phoenix trimming?