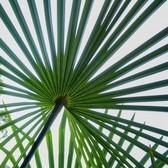 ---
Similar Content

By ThePole

Hello everyone
I am new here, this is my first post. My name is Maciej and I live in Central Poland, 6b hardiness zone.
I really love palms. I have an areca palm indoors and one chamareops humilis outdoors potted. Here in Poland, despite the cold in winters (and recently heat waves in summers), quite many people grow palms outdoors. Mostly trachys, sometimes washingtonias and chamareops.
Due to cold we have to use heating for wintering. Usually people use heating wires and white cloth. Some people even use graveyard candles (those that are ment to keep the heat for couple days).
 
Anyway, I wanted to plant my first trachycarpus fortunei plus potentially one waggy. Although I am a bit concerned as I have automated watering system. It waters my whole garden once or twice a day for 10-20 minutes in the summer.
I am afraid how would palm trees react? Will they get overwatered? I have some plants that like to keep things dry, yet they are perfectly fine with my system. I am not sure how palms would cope though.
Does anyone has any such experiences?


By GregVirginia7

Yes, indeed…a few Brazoria seeds forming…I see now how it works on this palm…one male stalk and one female, same palm. Let's see what I end up with this fall…Question: Should I winter the seeds outside in a dry cabinet then sprout in the spring? There aren't very many but if I have any to share I will once I see what makes it to fall.

 


By GregVirginia7

Does Butia Catarinensis have a glaucous, bluish cast to it?


By teddytn

Little 2 leaf seedling no big deal….Just wanted to move the pot over in the bed it was sitting on and definite resistance…slowly pulled the pot straight up, somehow didn't break the root, and out comes this monster!!Then took it out of the pot and it did a complete 360 around the bottom of the pot before it found its way outUnreal, true desert palm, drilling deep for water, easily add another 6" of depth if it didn't circle the pot first. Has to be a factor in their overall hardiness as wellInto a deep pot ya go


By GregVirginia7

What are the light requirements of a spring sprouted Butia…it's pushing out its second strap leaf and is in full sun…it was a fortuitous find and I want to treat it properly.