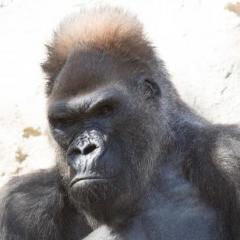 ---
Similar Content

By Tracy

I'm wondering if I am too late with the appearance of what appear to be small seeds on the megasporophylls of this Cycas thouarsii x cupida.  I'm still waiting for the male cone to mature on my male plant of the same cross.  The female plant has been giving off a pretty strong odor for close to 3 weeks which is one of the signs I would expect.  Other than my Cycas thouarsii, I don't think I have timed it right with any other Cycas pollination.  Thoughts, advice would be appreciated from someone with more experience pollinating this genus.  With my Cycas thouarsii, I used dry pollination as I had about 3 male cones to choose from and two receptive females at the same time.



By Jillian

Please be gentle, it's my first request, ha, ha. So a couple of years ago I found someone with a similar problem and they were told that "the white fuzz" on the guys king palm was normal. Well, mine isn't white close up but it looked like it from the ground. Is this white flies, or mealy bugs?? Don't suggest soapy water my tress are tall and I need to use a sprayer to take care of this. I'm sad and scared. Thank you. 





By Tracy

It is interesting to see the diversity within a species.  I'm growing a couple of Encephalartos sclavoi.  Perhaps due to age, the older one shows very few spines on the leaflets, even though the younger one still has about a 6" caudex and it's leaflets are loaded with spines.  I hope the smaller one grows out of the spiny leaf and develops a leaf like the older one... I will get a reveal when the next flush finishes opening.  The other thing I doubt will change is that the older one opens with a colorful chocolate mocha fuzzy flush, while the younger spiny form has an attractive fuzzy green flush.  It's not hard to see which color is preferred.





By Tracy

The new flush on the Cycas thouarsii x cupida was a little longer that I expected, while the Caryota is holding almost all its fronds, including the one right over the Cycas.  I know everyone says "don't remove green" from palms.  I also know that the Cycas will appreciate more sun, and I can't even see the top sides of the leaflets on the Cycas now.  The Caryota has plenty of other leaves above, and is a vigorous grower.  It shows no signs that this frond or the one immediate below it (the two lowest its holding) will be turning brown and prepared to drop on their own, any time soon. 
I also considered where to post this, and decided to favor the "tropical plants other than palms" page rather than the palm page, since the offense would be to the palm, and the protected plant is the non-palm.  So what would you do, follow the common wisdom of leaving everything on the palm, or not stress and remove the offending frond?  To trim... or not to trim?  That is my question.




By Tracy

An Encephalartos princeps is flushing right now and seems to have a couple of aborted or improperly formed new leaves it was trying to push out.  It did something quite similar last year, when a flush ended up aborting everything but three leaves of the flush.  It's not a tiny young plant, as I have plenty of other Encephalartos which push many more leaves at a similar size caudex.  The interesting part is that it seems to be having difficulty on the same side of the caudex, which faces west.  Leaves emerging from the southern, northern and easterly sides are normally formed, but not the west side.  Photos of the plant and closeups of the caudex with the "funky flush".  One year and I would attribute it to a trauma that I might have missed, but two years in a row of a similar phenomena makes me wonder what is going on.