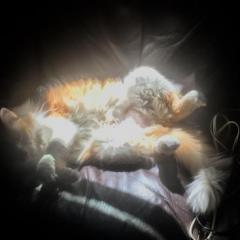 Mo' Free Franken Brahea seeds
By DoomsDave, in Freebies

---
Similar Content

By RJ

So I don't tend to post many picks of hybrids I've purchased from Patric until I get a chance to get an idea of what they will look like. I've always really liked the Yatay mule that @_Keith has that is a showstopper. So I did purchase a few from Patric last year and they are now starting to go pinate.  However in talking with Patric he peaked my interest when he mentioned he had a Yatay X (Mule). Now from my understanding Mules tend to have sterile pollen so it's pretty interesting that patric has pulled this cross off. After a few questions directed at patric and a little digging the mule pollen came from one of two palms that @Gtlevine has in his amazing garden. These mules are the offspring of a huge mule that was created by the late Dr. Wilcox and was sent to HBG in Ca. This mule for some reason has viable seeds, or at least some are. Garry germinated two of them and has them growing in his garden- one of them is the daddy to this hybrid.  (Hopefully I have this linage correct)
 
So I purchased this palm last year from Patric as a 5g plant. As is par for the course, it arrived in excellent shape and I received it in the end of July 2018. I potted it up into a 15g and it has never looked back since. I have not tested this palm in the cold but I would venture to guess given the genetics that this palm is at least a tad but more cold hardy then a traditional mule which tend to be reliable to the mid to upper teens depending on the genetics of specific plant. Given that this palm should be a tad more hardy. It's not as soft as a mule but not nearly as rigid as a typical butia. My hunch is this might be a great alternative to those who can't quite pull off a mule reliably.  I have this plant in 80% sun.  
 
Here it is Last July 25th 2018 in a 5g:
 
 
 


 
October 25th  2018

 
August 20th 2019



By PalmatierMeg

I have a gigantic, potted Zamia picta/variegata with extreme variegation that I got from Christian Faulkner as a tiny seedling 9-10 years ago. This species of Zamia is the only naturally variegated one. It is now an adult female taller than I am that produced seeds earlier this year. I assumed the seeds were infertile but did not notice that I had a male potted Zamia hybrid (loddigesii? x ??) sitting right next to it that I'd bought at a Palm Beach sale some years back. Lo, about a month ago I noticed that tiny variegated Zamia seedlings were popping up next to my mother cycad. I potted up 8 of them to find a new home and am selling them as a lot. See summary below
Zamia picta/variegata x Zamia hybrid (loddigesii? x ??): Eight 1-leaf Seedlings @ $3.00 each = $24.00
Shipping via Priority Mail = $8.00     No shipping to HI. No shipping outside of US
TOTAL = $32.00
Payment via Paypal. PM me if you are interested.
Photos:
Seedlings for sale. All are developing variegation like the mother.

Mother: Zamia picta/variegata. Note intense variegation and size of plant.

Father: Zamia hybrid (loddigesii? x ??)

 
 


By Marius

Hi Everyone. 
I will appreciate any inputs/ comments on the ID of these 2 Brahea palms. 




By Xerarch

So last year I got some Franken Brahea seeds (among other seeds) courtesy of Dooms Dave. In March 2018 I used the baggie germination method and the Chamaedorea radicalis came right up. The others didn't, not surprising, some things take longer to germinate. 
In May/June of 2018 we moved into a different house and I took the bags and bottom-heating pad and got them set up in the basement of the new place. Well, life takes hold of you and we're living out of boxes for weeks while getting things set up while still trying to work, take care of kids etc. and my bags full of palm seeds did not get adequate attention. Even within the bags, the soil dried out and I didn't notice until they were all bone dry....bone dry. I've ruined seeds before by letting them dry up so I knew I had blown it. I'm too busy to mess with it so I left them and turned off the bottom heat.
Imagine my surprise when in July 2018 (that's 16 months after placing them in the bag and probably nearly a year after they dried up) I see palm sprouts galore inside the bag, one even pierced the bag, the rest were bent over at the top of the sealed bag!
I can't believe it, I'm lucky I noticed them, they could have died from lack of light, let alone water. They are all now safely potted up. Needless to say, after the miracle I quickly went and re-hydrated the remaining bags of seeds, who knows. Might get lucky again. 



By Tracy

I planted this hybrid Coccothrinax in February 2018 and everything looked normal.  There was a small plant in the pot with it which was from a second seedling of the same plant, so i was getting 2 for 1 I thought.  Well fast forward and the main plant kept leaning to the side.  Attempts to straighten it were unsuccessful because it was solid, not flopping over.  I thought I was going to lose the plant, and finally decided to prop it on a decorative rock once it was essentially horizontal.  I finally can see what was making it lean to the side, it was growing a doinker which was pushing it the main trunk off to the side.  It's very strange.  I ended up looking up to see what species of Coccothrinax clump and see that pumila and fageldei are thought to clump.  The plant was thought to be a hybrid of Coccothrinax borhidiana with another unknown species.  While I've seen plenty of doinkers on Dypsis species, this was a new one on me.  Anyone else seen anything like this with a Coccothrinax?