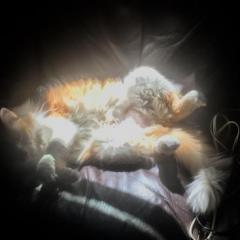 Mo' Free Franken Brahea seeds
By DoomsDave, in Freebies

---
Similar Content

By Marius

Hi Everyone. 
I will appreciate any inputs/ comments on the ID of these 2 Brahea palms. 




By Xerarch

So last year I got some Franken Brahea seeds (among other seeds) courtesy of Dooms Dave. In March 2018 I used the baggie germination method and the Chamaedorea radicalis came right up. The others didn't, not surprising, some things take longer to germinate. 
In May/June of 2018 we moved into a different house and I took the bags and bottom-heating pad and got them set up in the basement of the new place. Well, life takes hold of you and we're living out of boxes for weeks while getting things set up while still trying to work, take care of kids etc. and my bags full of palm seeds did not get adequate attention. Even within the bags, the soil dried out and I didn't notice until they were all bone dry....bone dry. I've ruined seeds before by letting them dry up so I knew I had blown it. I'm too busy to mess with it so I left them and turned off the bottom heat.
Imagine my surprise when in July 2018 (that's 16 months after placing them in the bag and probably nearly a year after they dried up) I see palm sprouts galore inside the bag, one even pierced the bag, the rest were bent over at the top of the sealed bag!
I can't believe it, I'm lucky I noticed them, they could have died from lack of light, let alone water. They are all now safely potted up. Needless to say, after the miracle I quickly went and re-hydrated the remaining bags of seeds, who knows. Might get lucky again. 



By Tracy

I planted this hybrid Coccothrinax in February 2018 and everything looked normal.  There was a small plant in the pot with it which was from a second seedling of the same plant, so i was getting 2 for 1 I thought.  Well fast forward and the main plant kept leaning to the side.  Attempts to straighten it were unsuccessful because it was solid, not flopping over.  I thought I was going to lose the plant, and finally decided to prop it on a decorative rock once it was essentially horizontal.  I finally can see what was making it lean to the side, it was growing a doinker which was pushing it the main trunk off to the side.  It's very strange.  I ended up looking up to see what species of Coccothrinax clump and see that pumila and fageldei are thought to clump.  The plant was thought to be a hybrid of Coccothrinax borhidiana with another unknown species.  While I've seen plenty of doinkers on Dypsis species, this was a new one on me.  Anyone else seen anything like this with a Coccothrinax?





By Hferrell87

Hello all, 
I have three (3) Butia's that were all labeled as Capitata, but chose all different looking ones to see if one produced a better looking Mule over the others. Fast forward to now and 2 of the 3 have now flowered and they are drastically different. Could one of these be "Odorata"? The Butia palm shown in full pushed the bright maroon flower and will follow up with a picture of the other Butia later.
Any information is much appreciated...
Thank you!
Halley Ferrell
Central Florida Bamboo and Palms





By Patrick

Hello all,
I picked up one of these last year, it's a great looking palm. I'm trying to get a gauge for what this will eventually become. I'm hoping some folks have this growing; it's been around a while. I saw the pictures from the Huntington website, but I thought I ought to ask here too. I was going to plant this near my Brahea decumbens, but I think it will be a bit too close.
 
Thanks for sharing!