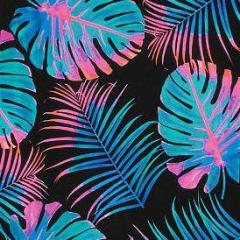 ---
Similar Content

By Kim

Tim Brian (realarch) and Bob Gibbens hosted a home garden tour for the Hawaii Island Palm Society, attracting the maximum capacity of 65 eager visitors. Regular readers of Palm Talk will recognize Tim and Bob's elegant specimens and the attention to detail. 
The photos barely scratch the surface of all the beauty, but here goes...
Edit: adding captions above each photo. First one, here I'm standing near the top of the driveway. The properties are on a fairly steep slope with great soil at the bottom and challenging pahoehoe lava at the top of the garden. Tall palms in the right of the frame are Euterpe precatoria.

Below, the visitors enter the upper part of the makai garden under Bentinckia condapanna grove. There are many Dypsis downhill from this point.

 

Mauna side of drive is Areca catechu 'alba' with the lemon-yellow crownshaft, a most outstanding palm due to the unusual color.

Below, Tim's Tahina spectabilis from seed collected from the first known flowering and discovery of this species in Madagascar in 2011.

Tree fern from Lord Howe Island (I think that's what Tim said...) and Iriartea deltoidea .

 


By Tracy

I have noticed that sometimes I see a photo of a palm and without anything in the photo to provide scale the palm looks smaller than it is.  I was taking photos of my old garden and had one of my Sabal mauritiformis (posted below).  I then had another with subjects in it... doesn't it look bigger with people in it for scale?  First with no one in the photo, and next with my subjects:



By Eric in Orlando

I came across this nice sized Corypha utan on Saturday. It is growing in Rockledge (just south of Cocoa) in a yard facing the western shore of the Indian River lagoon. It has some cold damage but I think more of the damage maybe from wind/salt spray from Hurricane Irma. There are Adonidia/Cocos/Hyophorbe/Veitchia nearby with minimal damage. A Livistona decora is to the right for scale.


By GoatLockerGuns

A few pictures of some of the palms at Moody Gardens on Galveston Island, Texas that I took over Thanksgiving last November.  Sabal mauritiiformis, Acoelorraphe wrightii, and Saribus rotundifolia I believe are in pictures 1, 4, and 2 (or at least that is what they were labeled); not sure about the one in picture 3.






By doranakandawatta

In our intercontinental PRA last week ( see Ohana Nui subforum) in Peradeniya botanic gardens I noticed thanks to Ahamed this palm and wonder which species it can be? Corypha utan?
Strangely I don't remember having seen this tree in the previous visits!