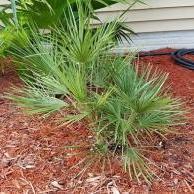 Rhapidophyllum hystrix making it "safer" for kids and animals
By mdsonofthesouth, in COLD HARDY PALMS

---
Similar Content

By PalmTreeDude

A month ago I was at Watercountry here in Williamsburg and I saw this really nice Needle Palm. I just randomly found the picture on my phone I forgot I did not post it yet. There were also a lot of trachys there. 



By mdsonofthesouth

Found these and almost bought them out! With tax it was more than acceptable price for these hard to find palms. Going to be planting some back bones for my garden with these when I get back home and might grab some more when I come back! They also had a good mess of southern yellow pines that I might get as well if they have longleaf. Going to make a groove of slash longleaf and loblooly with needles minors and yuccas sprinkled in. 
 
Anyways I know they are boring around here, but nice to finally start sourcing these for my projects and wife was happy to hear they won't need protection lol.



By tjwalters

We got around 3" or so.  Did not stick to pavement, but eventually piled up on cars, roofs, and plants.



By DoomsDave

Below is a portrait of one of my needle palms, and it's not really happy in that spot. It's hard to give it the water it needs. Note the Shoe for scale, 12.5" 32 cm long.
It's been there for a year or two; anyone have experience moving these? I plan to put it in a shadier spot near a couple others and with a lot more water.
Thoughts?



By Bigfish

I found a small population of Rhapidophyllum hystrix last month in Georgia that I found interesting and worth mentioning.  
 
The female palms there all had below-ground trunks (like Sabal minor), except for a pair of most likely very old palms that had about a foot of above-ground trunk.  They were reproducing adults, and I estimate that they were all well over ten years old (maybe quite a bit older).  There were very few pups per plant (typically 2-3, but as many as 4-5), and the pups were a greater distance than normal from the mother trunk.  The petioles were several feet long, and the palms had a more open appearance than a typical Needle Palm.  
 
It should be noted that these palms were not very far away from a "normal" population, probably less than 50 yards.  I'm very curious as to why the trunks don't emerge from the ground.  As mentioned, there was a female palm with two trunks that each had about a foot of above-ground trunk (for some reason, I neglected to photograph this palm), so apparently with great age the trunks do emerge.  I'm sure that the amount of shade does not play a role, but I can't rule out soil playing a role.  Then again, it could just be genetics!  I did collect seeds, but it will be years before it can be determined if the below-ground trait is passed on genetically.
 
There were several males in the vicinity, and one old male (pictured) had several feet of trunk above ground.  
Onto the pictures!
 
Palm #1, with 4-5 trunks.  Palm #2 is the last picture.