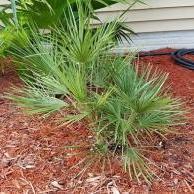 ---
Similar Content

By ZPalms

Sabal Palmetto has been in the ground since May 17th and it's already pushed out 1 strap leaf but working on another which looks different to me so maybe its going palmate? regardless it's cool it pushing out 2 leaves still in recovery mode! 
 




By AGMmidTN

Season's greetings, fellow palm enthusiasts. I have been trolling palmtalk for years, and I have a healthy obsession with tropicals/subtropicals. I currently have a Trachy that's been in the ground since the spring of 2017. It sits on the south end of an east facing wall and the houses in my neighborhood are fairly close together and my yard is fenced in, so I'd say I gain a half a zone in hardiness due to site planting. It was protected minimally the winters of 2017/18 and 2018/19. The first winter this little lady was only 2-3ft tall tops, so I built makeshift protection with clear painter's plastic floor protecter and tall 2"x2" wood (think of a teepee). I made sure the fronds didn't touch the plastic, so as not to burn) and placed old school Christmas lights around the base of the palm. The lights and protection did the trick and kept the palm about 10-15 degrees higher (I'm also a meteorology nut so I have a weather station with a temp gauge I placed against the palm). She came through pretty well given our coldest low of 1 degree F (2017/18 was my areas' coldest winter in many years). The spear pulled next spring but I used hydrogen peroxide a few times over the course of a week or two and she bounced back and flourished. Winter of 2018/19 I merely wrapped the trunk with the same strand of lights and she was fine (still had spear pull and had to use hydrogen peroxide spring of 2019). Last winter I didn't even put on any lights or place a protection around her, but last winter was quite mild (fingers crossed we have the same). This spring I did have a spear pull but again, I used the H2O2 and once I noticed new growth I fertilized, yielding exponential growth. 
 
At this point I know I want to have this palm for the long term (I rent and didn't think it would perform so well) and I would like a healthy plant to transplant to my next home or to my sisters just south of Birmingham, AL z8a. I have more C7 lights and am ready to wrap the trunk, but I noticed in the past that the heat burned holes through the fronds or browned the trunk a bit on the fibrous hairs. Is that ok? Should I tie up the crown? Is the palm large enough that enough hardiness has been achieved that I should just let her be? I'm all ears and and would love any advice I can get. 
 
Thanks in advance!
side note: if any of you have been around the online palm community since 2000 or so, I was just 14 back then - asking questions on multiple message boards (I quit for lack of believability that I was my age and the haters that thought I was some dirty POS), growing seedlings in my parents basement, and making my family stop at nurseries on road trips to Florida to see what would grow in SW MI not far from Lake MI (I did have some success with a needle palm). I now am Master Gardener, do landscape design, and hope to one day have a yard that all my neighbors either love or hate lol. 






By kbob11

Hi everyone,
    I'm just wondering what you think about uncovering my 15gal T. Fortunei.  I am getting a little antsy these days to do some gardening.  Should I wait until lows are in upper 30s? I know it will survive but thrive? 
Thanks!



By Zach K

Afternoon everyone! I found some very tall, full-figured T. fortunei in Portland, OR when I was driving by recently. Well ok, I took the photos in the fall of 2019 so I'm a little late (my apologies).
I've attached some photos and the google maps street-view link (which, arguably is slightly dated) here: https://goo.gl/maps/afhGzkTjNrYzEUPQ6
Can anyone guess the height of them? I would love to know. Its inspiring seeing palms this size this grow here.
 
IMG_6999.HEIC
IMG_7001.HEIC


By kbob11

Hello everyone,
   I just put up my winter protection yesterday and I had a couple of questions.  The biggest one being, will my palms be okay with no sunlight for the next 4 months?  I have T. fortunei (right) wrapped with frost cloth with a heat lamp attached to a thermo-cube.  The Needle (left) is tied together surrounded by straw / leaves.  It has a frost cloth roof with plastic corrugated roofing over it.  Can I just leave it for 4 months? No watering / sunlight?  There are small ventilation holes in the back of each box and doors that I can open if it gets too warm.  Thanks for the help!