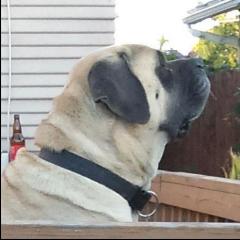 ---
Similar Content

By PalmatierMeg

I began germinating palm seeds in 2008 and started with various species of species of Sabals because they are easy for palm beginners. In 2009 I planted a variety of Sabal seedlings at the edge of the vacant lot to the east of ours to block the view of an abandoned house nearby (it was the height of the Great Recession and many homes in Cape Coral were abandoned). Today I took the following photos of these 11-year-old plantings. Sabals causiarum, domingensis and maritima have grown to be massive palms and most have been flowering for years. At one time I had each of them tagged but those tags are long lost so telling the large Sabals apart is difficult. Sabal palmetto is the smallest  trunking Sabal and the specimens on Sabal Row look almost dwarfish compared to their massive cousins. None of the palmettos have flowered yet.
Sabal Row, May 2019, Cape Coral, FL



By PalmatierMeg

Among the very large Sabals inhabiting Sabal Row on the east side of the yard is one that outshines the rest. Even though it is several years younger than the original inhabitants but is just as tall and big around, with the largest leaves. It carries these leaves on massive, upright green petioles. Its stem has long papery ligules unlike any of the other Sabals. My husband is no Sabal afficionado but he really likes this palm. I grew it from seeds I obtained as "Sabal mauritiiformis" way back around 2009/10 but two visiting PTers whose opinions I highly value have told me it is not that species. But no one has been able  to confirm what species it is. Can someone here tell me?
I took the following photos this evening and I can take more tomorrow when lighting is better. It is hard to encompass the full scope of this Sabal
Photo #1) Trunk with my husband for scale

Photos #2) Ligules on trunk

Photo #3) Width of petiole with my hand for scale

Photos #4-6) Views of fronds



By LasPalmerasDeMaryland

Welp it's that time of the year. Spring has sprung and it's time to plant. I will show you guys what I have planted. 


By PalmTreeDude

So I have these Sabal minor, and this weekend is going to be in the 70s and not get too cold, even at night. But over the week the highs are in the mid to high 50s and the lowest low is 30 (one night). Would I be rushing these or do you think they world be ok to be planted now? Would they be able to handle a frost freshly planted? 



By DoomsDave

Say-it-ten-times-fast . . .
Yesterday's PSSC meeting in Poway, CA was a rip-roarin' success, so I heard. For various reasons, I missed much of it, so maybe you who did make it there can provide a few visual and narrative highlights?
I did get there, really late (like I hope for my own funeral) and I hear tell it was quite the event, even (especially?) before I got there.
Thanks to @Josh-O, @BS Man about Palms, @daxin and others who attended, included @Darold Petty who came on down from San Francisco for the fun in the sun.