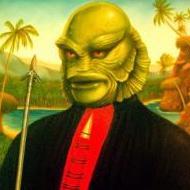 First Inflorescence of C.cataractarum in my Office!
By Funkthulhu, in PALMS IN POTS

---
Similar Content

By PalmatierMeg

I can't remember when I planted this Chamaedorea in the western edge of our jungle. I scarcely noticed it at all until it sent up a crop of seeds. It appears to be solitary and non-trunking and I wonder, "Could it be C. radicalis?" Can someone confirm or steer me in the right direction? Thanks
Seeding Chamaedorea, Cape Coral, FL
 


By Funkthulhu

I received some seed from @DoomsDave last year and even after moving and cats and everything else, I still have two seedlings left.  They're a deep green, and seem very healthy.  
However!  In giving them a deep soak today I noticed that there are new tiny little spears coming up from the edge of the stem, not the center...  Then I did some research to find that C. mitis is a Tillering palm!  
So, now I'm a bit worried.  They're in a rather small pot right now, and they only have 3 or 4 leaves each.  How big of a pot do I need for these?  Or, more importantly, how deep to accommodate the tillering of this species?  (while we're at it, what soil composition do they prefer, as I assume I'll be repotting?) 
Cheers!



By PalmTreeDude

I received some Chamaedorea radicalis seeds about one week ago, and have had them soaking in water since (changing water out, of course). I'm about to sow them but I noticed there is a thin looking layer of shell or something around the actual seed, should I try to peel that off or is it fine if it stays on? 



By Bill H2DB

Here's a video of some palms under the large live oak hanging over much of my yard . I call her  " Big Bertha " .
 Those branches up there are each around 42" or more in diameter . A nice breezy day , with the Spanish Moss swaying .
 
Breezy day in Florida by Bill H, on Flickr
 
 


By Brad Mondel

Which do you prefer?