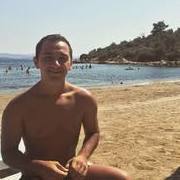 ---
Similar Content

By sandgroper

G'day all, just wondering what people think about the little coconut I've got as against the big one. The big one is a golden Malay dwarf, they are quite common in northern Western Australia and mine started out about the same size as the small one I have, I planted it 8 years ago now. The small one I bought about 3 years ago, does anyone think it may be a different variety? The reason I ask is that it is much slower growing than the large one, it is also much greener, the large one has a yellow stem to each frond and always has done even when it was small whereas the small palm has a green stem. The small one has never really been looked after over winters as against the big one which has always been protected in some way, up until this winter, yet the small one always seems to sail through winter almost unscathed. The small one I bought from a backyard nursery in the next suburb across from mine, they have lots of tropical plants they sell regularly but I don't know where they get their stock from. Anyway, curious to know what anyone thinks, any opinions are appreciated, cheers.
 
2 pics of the small palm and 1 pic of the large palm for comparison. 





By Yunder Wækraus

Saw this on a FB group devoted to our old neighborhood




By PalmTreeDude

So I remeber hearing someone say in a video that Immokalee does not have a good climate for more tender palms, I looked around on Google Maps on Streetview and saw these coconuts. Some look fine while others look horrible. I am kind of confused about this towns climate. Does it get a freeze every few years from being so far inland? What type of stuff would be the limit of what would survive there long term? 






By PalmTreeDude

Here is the store bought coconut I got from Publix(?) at the very end of last Summer. Over the Fall and Winter (it took it a long time before the first spear was sent up) I germinated it in a plastic bag with the nut half in water. Here it is at the end of Spring, the heat really makes a difference. This coconut had a Dominican Republic tag on it, so what ever variety they grow commercially there is likely what this is. This first picture is when it germinated in late September and the second picture is it today. 




By SilverDragon

It pains me to know that who ever buys these will probably throw them out when they die in the fall and winter...unless they somehow have space indoors??