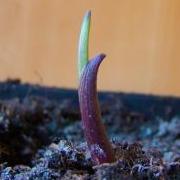 ---
Similar Content

By RaleighNC

In April 2019 I posted photos of some of my plants.  After two growing seasons many of them have grown a lot.  I have tried to take the update photos from the same perspective, but often this was not possible.  I will post a few at a time.
Trachycarpus nanus April 2019

 
Nov 2020

 
Cycas revoluta x taitungensis (April 1019)
 

Nov 2020



By GregVirginia7

Update On the McCurtain...the leaf I thought might be a more mature frond is another two leaf strap...at 62, I need it to grow faster but I think I'll chalk this one up as a lesson in patience. It's not going to be what it's not...but it's a good candidate for my zone....



By konarikcy

Hello all
For those of us who do not live in the States, the USDA Hardiness zone guidelines are a useful indication of what may grow in our country. I live in Nicosia Cyprus where we have relatively mild winters for most months - it is October and we are currently 36oC  with 20oC(night).  But it will suddenly change and by January, it will be continuous cold,  a little wet with possibly zero some nights which would normally I think put me on a 9b bordering 10a zone.
However this can be misleading as I have found out the hard way. We have months and months of Mediterranean summer reaching 46oC this year (blame global warming). This means that the USDA zone alone is an insufficient guideline for us with more extreme weather as it does not take into account the max summer temperatures, the length of summer and winter conditions, rainfall etc.
Nowadays, I often look at what other people are growing with similar climates nearest being  Southern California and even Sydney  (not in Cyprus as there are few of us pushing boundaries I think). Having recently joined this site, I look forward to following closely what people are growing in these areas. I currently grow Bungalow palms, livistona chinensis, bismarkia, robellina, trachycarpus fortunii and waggies, chaemadorea, and many cycas, dioone and encepalartus. Here is a picture of part of my garden.
I would be interested in hearing how other people decide on what to try apart from the obvious desperate "must have this plant" garden urge.


By GregVirginia7

Any lessons on Sabal fronds collapsing? This one is growing in Bethany Beach, DE and has been in ground for about 4-years...seems very healthy...new growth fronds are huge...any advise appreciated...just want to rule in or out any nutritional deficiencies...they collapse at the petiole...most other fronds seem strong.


By eevans

I have a large Mule that has been in the ground in its current location since 2016 (see https://www.palmtalk.org/forum/index.php?/topic/48668-moving-a-mule/). 
It has been growing very quickly and robustly since then, with no indications of any problems that I have seen.  Yesterday I noticed that the newest leaf spear emerging is completely dead and dry (see picture).  The next-oldest leaf to its right appears OK as far as I can tell, though it has not fully emerged yet.
This is obviously not from cold damage, given that it is now October and we did not even have a real freeze last winter.  Our early summer was slightly rainier than usual, but nothing extreme.
I'm a little depressed about this, since it has been doing so well for the past 4 years.  I previously had a large Pindo in the same spot for almost 20 years. That one died after initially showing a similar symptom - the newest leaves all emerged dead.  Eventually the whole palm died from the youngest to the oldest leaves, and the trunk decayed into a foul-smelling wet mess. 
I'm completely stumped about what might have caused this, and whether there is anything I could or should do to save the palm at this point.
Any suggestions would be much appreciated.