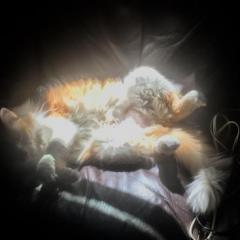 ---
Similar Content

By Oviedo_z10b_lol

B. Alfredi , A. Alex, and A. Engleri have been in the ground one year today. Not too shabby growth on the alfie considering it only gets about half day of sun. Happy Saturday, everyone. Not sure why the photos uploaded backwards, but I'm sure everyone can tell the "before" from the "after."




By PalmTreeDude

I germinated this Archontophoenix cunninghamiana summer of 2019, and I stuck it in the ground this past spring. I have been wanting to try one with protection just because I thought it would be to have a zone 9b+ palm in a borderlines 7a/7b area. So here it is, my Archontophoenix cunninghamiana with a heating cable just thrown around it covered by an old sheet and a tarp in Central Virginia. I chose this species because I not only like how it looks but because I know they can handle cooler conditions, which is perfect for inside of the protection. I open the bottom flaps to let light in and to give it ventilation during warmer days. It is actually growing inside of the protection too. One day about a month ago I left it uncovered and it got down to 30°F briefly, which burnt some of the fronds and the spear quite a bit. I'll post updates. 




By PalmTreeDude

Does anyone know how far north a healthy king palm (Archontophoenix cunninghamiana, or another species if you know about one up north) can be grown in California? I have seen videos of them in San Francisco and the general San Francisco Bay area, there was even a video of some on YouTube in Lafayette, California. Are there any north of these areas? How far up along the coastline can they go before they struggle? I never heard of an exact northern limit for these on the west coast, so this topic is interesting to me. I know California has a ton of microclimates due to the ocean and topography. 


By Jillian

The branch's pictured were over my head. I think it has several problems with the waves in the leaves, and some type of bug.  I recently sprayed it with Neem oil and Bio Bayer about 7 to 10 days ago and the new growth is already looking better. 




By Jillian

Please be gentle, it's my first request, ha, ha. So a couple of years ago I found someone with a similar problem and they were told that "the white fuzz" on the guys king palm was normal. Well, mine isn't white close up but it looked like it from the ground. Is this white flies, or mealy bugs?? Don't suggest soapy water my tress are tall and I need to use a sprayer to take care of this. I'm sad and scared. Thank you.