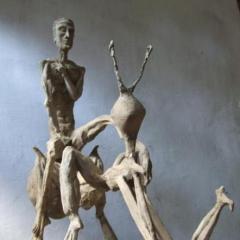 ---
Similar Content

By tjwalters

Looking to trade a few fresh Chamaedorea adscendens seed for a few Areca vestiaria seed.  Anyone interested?
-t


By tjwalters

A few pictures of a potted Areca vestiaria at the U.S. Botanic Garden in Washington, D.C.  These are from 2013, so not sure whether they are still there.  Gotta love these!




By Hillizard

I got this Areca vestiaria years ago as a germinated seed from RPS. It's the only one of a group that's thrived. It's always been indoors in a room that only gets morning light/heat (i.e., my sunroom faces east). Some of the offshoots from the main stem declined and I've had to spray for scale now and then, but otherwise it's done OK under a relatively low-humidity, shady, highly variable temperature regime. It's my suspicion, beyond mere acclimation, that success with certain palm genera under less than ideal [challenging?] growing conditions may be dependent on the specific genetics of an individual palm. 




By Cindy Adair

Sharp eyes may have noticed this Areca vestiaria in my Verschaffeltia line up. This ready to be planted clump was a recent generous gift and deserves to be liberated immediately and stretch its roots, don't you think?
It has been in this spot more than a week and seems to be responding well to the light level and I am in a planting mode.
I usually try to plant out potted plants into the ground at exactly the same soil depth as they were in the pot. However with this one I am not sure.
Other A.vestiarias I planted tiny are now much bigger and have shown no stilt formation.
Is this a reaction to the pot, like reaching for better conditions? 
Basically do I plant it even slightly deeper or not?
Thanks!





By maxum2610

I need to repot three Areca Vestiaria seedling soon, and was wondering if anyone had any tips on a good soil mix for these?