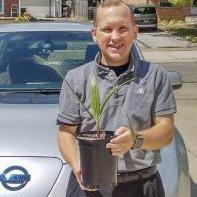 Washingtonia Robusta in pot- Tips/Tap Root, Watering
By RobustaEnvirons, in PALMS IN POTS

---
Similar Content

By Tom1129

Planted this guy about a year and a half ago and has been kicking butt every since.  Recently, the palms' leaves have started to fray.  Should i be concerned about this or is there anything I can do to stop it?  The new leaves that are coming out the top are coming out frayed and brown too.  I live in Los Angeles where it's pretty hot but I water it pretty well.
 
 



By DallasPalm

I live in the Dallas TX, USA area and have 2 Mexican Fan Palms (aka Washington Palm, Washingtonia Robusta).   One is about 12 feet tall and the other is 17 feet tall.   Over the winter, I wrap them with Christmas lights and burlap around the bud.   This past winter it got down to 9oF.   The shorter palm is perfectly fine, but on the tallest one I guess I kept the burlap on too long.  Because, when I unwrapped it, the bud was rotting and fell off.   I could tell that new growth was occurring, so I thought it would be fine.   By the time I realized it wasn't growing normally, it was 1.5 months later.
Two leaves that were already outside the bud grew out and are green.  So those are mostly fine as you'll see in the pictures.  But all the fronds that grew out after the rotten bud are deformed.  The new fronds are growing about 3/8 inch per day, but just are not normal.  
I've now applied copper fungicide one time and hope that eventually it's going to produce a normal bud.  Below are several pictures showing what's happening.   Any advice is appreciated.
Here's the full picture of the Mexican Fan Palm with the 2 green fairly normal fronds that grew inside the burlap but outside the rotten bud which fell off 1.5 months ago.

 
In this picture you see some of the deformed fronds that grew after the rotten bud fell off.

 
Then, this picture shows one of the newest fronds.

 
Finally, here's the newest frond in the center, which still doesn't look like a normal bud is forming.



By PalmNut22

Hey guys,
I'll be traveling to California soon and want to take the opportunity to gather seeds of both Washingtonia Robusta and Filifera, I'm after PURESTRAIN seeds only. I know it's difficult to get pure seeds of either species due to their coexistence causing hybridisation but I am willing to 'go hunting' for them. I have read that you can do tours in the California desert to collect pure seeds of Filifera, and I'm also thinking of quickly going to Mexico to get pure Robusta seeds.
Does anyone know locations I can visit where either species are so far apart (including hybrids) that hybridisation is virtually impossible and I can get pure seeds? Willing to travel far for them.
Cheers guys


By Newpalmguy2769

I'm trying to grow all types of fan palms. I bought some Bismarck palm tree seeds and looking for some ways to speed up germination. I have like 65 Mexican fan palms seedlings. I also need help to germinate bottle palm seeds also. I can't wait to learn about different types of palms
 
 


By PalmTreeDude

So my Mexican Fan Palm finally got beat up when we hit 19 degrees F one night last week. So it is time to start protecting it. I put a heating cable around it today (Low is 25 degrees F tonight, a tempature it has been through before and stayed 100% green.) and will finish the protection tomorrow. I need to buy some burlap to keep the heat in. I will likely cut all of the fronds except the center spear off when I wrap it. No other palms of mine are being protected at the time and have no damage.