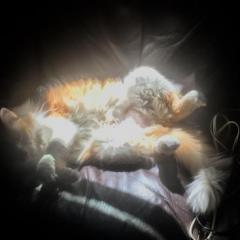 Free Chamadorea glaucifolia seed!
By DoomsDave, in Freebies

---
Similar Content

By Patrick

Hello Palmtalkers,
 
Keith got me thinking with his post...
 
I Have a L. decora that has fruited and the seeds are ripe. This is the first year it has fruited and it's very exciting. The fruits are just starting to fall off the tree. I was curious if anyone wanted some? I have many.
 
Send me a PM and leave a note here as well. I will cut the seeds down in a few days and dole them out. If you want to send a buck or two for postage, cool- but let me get them mailed out first, I have Paypal. If you don't want to send a buck or two no worries. Thanks.


By DoomsDave

Whoo hoo wee! 
Just got a whole bunch of Dypsis lanceolata seeds!
If you want some, PM me with your address and I'll send them to you, anywhere on Earth except Morocco.
Please put "free lanceolata seeds" or similar in the message line.
You may know the drill already. PM me for any  questions.



By DoomsDave

Everyone:
A good friend of mine gave me the seed yield from his mature Dypsis plumosa, and I'd like to share them with you.
Here's a picture of my mature specimen, which unfortunately had a very small yield this year:



By DoomsDave

Hello, everyone:
I have a nice crop of hybrid Brahea seeds, free shipping worldwide to all who want, no charge.
These are large seeds, so I won't be able to get many in an envelope.
As the pictures show, this thing is big. It was planted from a very sad-sack 7 gallon in 2006 more or less. It's now the better part of 30 feet (10 m) tall, about 12 - 15 feet (4 - 5 M) across the crown, and about 60 cm (2.5 feet) across the base. The Shoe is 32 cm, 12.5" long.
I really don't know if these will come true or not. This palm is far bigger than either of the parents, which I think are B. armata and B. brandeegii.
Full sun, regular water for fastest growth, will survive serious desert conditions. (Sahara? Saudi Arabia? Atacama? No problem!) Please don't plant under utility wires!
I've been advised to plant each seed in a deep pot or cup to avoid disturbance of the roots when small. I've also been advised to wait till the plants form a number of leaves before trying to move them; they survive root breakage better that way.
GIVEAWAY INSTRUCTIONS
PM DoomsDave
Put "Brahea seeds" in the message line
Give me your full mailing address.



By paulgila

Free c. seifrizii "blunt leaf" form. come & git it. the dang thing is about 10' tall. pm me or something.