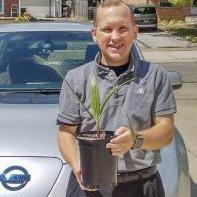 ---
Similar Content

By Teegurr

Hi, new member here. I just received these Canary Island date palm seeds from treeseeds.com. I wonder how long I should keep them indoors and when to plant outside. Also, what soil would be good for them? I appreciate the help! 



By Coasta

Hello all! Just wanted to get your opinion on what could be causing my canary island date palms to have dark/ burned looking spots on each rachis that has come out this summer? 
The palm seems to be very happy as it has put out quite a few new fronds, just curious. 


By Sr. Califas

About 2 weeks ago picked a fabulous day to hike in our local mountains. The peaks Ontario and Cucamonga are two of the most prominent peaks visible from Orange, L.A.  and San Bernardino counties. There are plenty of websites that can offer you detailed information about to the hiking trails and the sights and scenes included within. I just wanted to share a some pictures I took on my way up to the top of Ontario Peak. Pictures of fauna always came out blurry, but I was able to do a decent job with the flora and topography.  





The manzanita was thriving!




View looking west. 

Over looking the I.E. where L.A. county an San Bernardino county meet. Out in the distance, looking south, is Saddleback, part of the Santa Ana mountains near the border of Orange and Riverside counties. On a clear day the ocean, including Catalina Island, is visible looking south-west. 



By palmie

I have a mature Canary Island Date Palm that needs fertilizer badly.  The margins of the fronds are turning yellow prematurely. I finally got the right fertilizer, but I'm not sure how to apply it.  The instruction says to apply it to the area under the canopy.  But the area under canopy are mostly hedges and grass. What do I suppose to do? 
Apply the fertilizer to the hedges and grass and hope that the wrong fertilizer won't kill them and some will make it to the root zones of the palm??  
Alternatively, skip the hedges and the grass, apply only to the Root Initiation Zone (RIZ) of the palm wherever possible, including the dormant aerial roots?
I'm in South California.  The fertilizer I initially ordered was Palmgain, but it never arrived.  I went to a local store and got Palmtone (organic 4-1-5) and Epsom Salt instead to mimic Palmgain.  Since Palmtone is organic, I'm assuming it's ok to apply close to the trunk where the RIZ is.
Any help would be greatly appreciated!




By Coasta

hello everyone! Just had a question. I have had this canary island date palm in the ground for about a year and a half. It seems to be growing pretty slow as the trunk hasn't expanded a whole lot and the leaves don't seem to be getting longer. I do fertilize it and water it a few times a week. Any idea orare they this slow when they are small?
Also I notice that at some nurseries I go to the fronds are way longer than what mine are (45 inches), with about the same size trunk. Does this mean my canary island date palm won't have those awesome super long green fronds and they will be shorter?