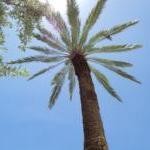 ---
Similar Content

By pavi

Chambeyronia macrocarpa opening new leaf


By Coryphagrowers

Hola,
We had the opportunity to collect seeds from an adult Talipot palm in Costa Rica, and decided to germinate them, we had luck and most of them are growing now. Almost a year later, another Talipot palm had mature fruits, and we collected most of them. We have had several people interested in getting some Corypha umbraculifera seeds, but we are very new to this shipping seeds process, so we wanted to know if someone here has information on the best way to pack these seeds to be able to ship to the USA, or maybe another country also, bus specially to the US. We know we need to provide a phytosanitary certificate given by our Costa Rica Ministry of Agriculture, so the seeds can cleared out of US customs without any problem. Any other information you can provide will beef great help, most interest on the best packaging material, plastic bags? or boxes? do they need to be vacuum sealed? or just normal seal? the tags that need to be stick to the package? 
Hope someone can guide me a little with this topic.
Thanks in advance!
Pura vida!
Paola


By PalmatierMeg

Last Sunday afternoon my husband decided to drop in on a Ft. Myers Palm Park, the one by the former railroad museum, to see what was up. Overall, the palms look okay but rather ungroomed, likely because of covid issues. But some of the palms were seeding and we scarfed some Copernicia baileyana and prunifera seeds that had escaped being cut down last year.
We also saw a juvenile Corypha umbraculifera that is already well on its way to dominating the rest of the park. It is already larger than my Sabal causiarum. My husband immediately fell in love with it. But I don't plan on getting one. I already have a young Tahina spectabilis and one giant monocarpic palm is enough. My husband took the following photos of that choice Corypha.
Corypha umbraculifera juvenile, Fort Myers, FL 2021



By PalmTreeDude

Does anyone know what these agaves are? I thought they were both Agave americana but now I think these might both be different species. I'll need to get a better picture of the variegated one tomorrow. 

 



By Prinpalms

Cyrtostachys renda, the Red Sealing Wax Palm (also known as the Lipstick Palm) , has the well-deserved reputation of not being able to grow 'en la tierra' in Southern Florida. Notoriously cold-sensitive,
It can 'brown off' at 40 degrees F. Attached photograph shows a 10-year old plant doing quite well on Miami Beach. It has a western and southern exposure and is shielded from the north. There are two 'tall' trunks , reaching 10 feet (highest point). The palm has managed 46 degrees F with no damage. On the same evening, temperatures 1-2 miles inland (Coral Gables) were 42 degrees.  South Florida has had a long streak (?15+ years) of mild winters. I can testify to knowing of fruiting breadfruit trees 25 feet high a mile from Biscayne Bay (something unthinkable 30 years ago), anecdotal evidence of climate change. Are other enthusiasts having success with the stunning Red Sealing Wax palm in Miami and environs?  Just curious.